Mothers are unique and special gift of god for us. No one can live happy life without a caring mother. She is the one who bears pains and work for us selflessly. We cannot reward her efforts in raising us in any way. She is simply superb. We can just make her feel loved and contended by our love, respect and care for her. Gifts are very good way to show our love and care for our lovely mom. As mother day is approaching so you have fantastic opportunity to bring smile on your mother's face who has done a lot for us. Here are some stylish, cute, lovely and inspirational gift ideas to make your mom happy and loved.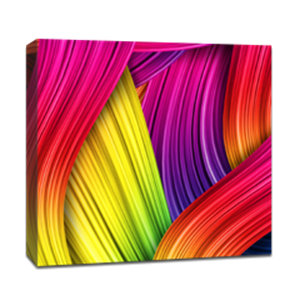 Image source just4canvas.co.uk
Canvas print of her wedding:
We all know that wedding is very important and life changing event in any one's life. Once the day is gone we are left with only memories. The best way to preserve memories is the photos. You can surprise your mom by presenting her large canvas prints of her wedding on this mother's day from just4canvas. She will love the gift and you too. To add more drama you can hang it in your mum's room without telling her making it a unique surprise.
Initials necklace:
Mums love jewelry and we all know it. On this mother day make her feel blessed on having such caring kids by presenting her necklace of her initials. It is not necessary to be in gold, do it according to your budget. You can also make it on your own by just getting a beautiful chain and alphabets in steel work. Get them in chain to make a beautiful necklace.
New toiletry:
See if your mum has same toiletry since your second grade trip to Disneyland. Buy her a stylish new toiletry in her favorite color. If you can afford more fill up this toiletry with perfumes, brushes, pocket calendar and other small stuff which you think your mother needs.
Sugar body polish:
Mums do want to look fresh and cute but they often forget to take care of themselves while working in office and at home. Gift your mum a sugar body polishes to keep her skin fresh in winters. The sugar polish will exfoliates her skin making it fresh and clean. I hope your mum will like this gift very much.
IPhone wristlet:
If your mum has an iPhone and face difficulty in handling it, gift her cute iPhone wristlet. She will always find her iPhone in this wristlet and will keep it safe from losing. This is best gift for techno moms.
Treat her teeth with amazing chocolates:
Do not think that it's only you who love chocolate. You r mom also likes it very much. Get her favorite chocolate, wrap them in colorful paper and tie with ribbon to make it personalized. Present it to your mom with lots of prayers for her. I am sure she will love this gift and you can see this when she will give you a tight hug after receiving it.
These are some unique ideas to make your mums smile on this mother's day.
Atiq-ur-rehman is a professional independent information technology provider. He is also an avid writer and gives his expert opinion on home decor, travelling and photography.