Whether you have to present a gift to someone on any occasion, you always necessarily need not to spend a lot of money. There are ways and methods with the help of which you cannot only save your budget but can also prepare a unique and great gift that can mark the day for anyone. These gifts are easy to make, helps you get rid of roaming in the market and most importantly are very cheap.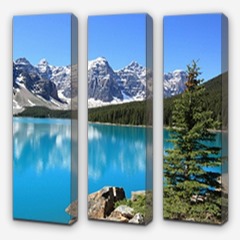 Image source just4canvas.co.uk
Quick and Easy Gift Ideas:
Following lines contain some of the terrific ideas with the help of which you can create an instant gift for any occasion.
· Journal Covered in Fabric:
Buy a journal from the market and wrap it with a beautiful fabric already present at home. It is a great gift for a friend who has an artistic nature and also for the studying kids. Furthermore, you can whip up multiple journals in not time enabling you to present gifts to more than one person at a time.
· Name Frame:
You can recycle a plain wooden or metallic frame into one of the most treasured gifts for a friend or family member. For instance, you can first prime the frame and then paint it with chalkboard or colors and finally draw some fun paintings on it. Finally, you can print or write the name of receiver or can add a caption as well on the frame.
· Painted and Stamped Flowerpots:
If someone loves nature and plants, you can give him the gift of easy gardening. With the help of a solvent ink, you can create patterns and drawings on flowerpots followed by adding colors with acrylic paints. For creating a 3D effect, you can draw elegant designs on thin crafting material, then color it and attach it to the pots. Moreover, you can write personalized messages on these pots as well to show your love and affection for the other person.
· Nice and Cute Cookbook Holders:
You can also transform a useless magazine holder into one of the most exciting piece for kitchen décor. You only need to create small designs on the chipboard and on the bottom of the holder. To make the kitchen theme more prominent, you can also attach an adorned spoon with the holder. This is a perfect gift for housewives and young budding girls interesting in cooking.
· Personalized Wall Art:
Personalized wall art such as putting special photos on to canvas have become really popular among the people over the years. You can personalize the picture by adding the photo of the receiver of by depicting the happy and important moments of his or her life in the portrait. This will not only impress the receiver but he will also be immensely moved by the effort you will put in making that gift personalized.
· Stamped Clock Face:
Again you can create another type of personalized gift by replacing traditional clock numbers with creative stamped images and patterns. You simply have to take an inexpensive clock, open the cover, remove the arms, draw the stamped images and finally reinstall the arms and close the cover. As a result, you will get a fascinating and engaging clock that can make a perfect gift for any occasion.
Sometimes it gets extremely difficult to find extra money for buying expensive gifts for friends and family. Therefore, abovementioned tips will allow you to create unique and exciting gifts without spending much and these gifts will please the person receiving them.
Author's Bio:
Anthony Powell is a well-known content writer and blogger and writes mainly on gift ideas, home decoration, and photography and wall art like large canvas prints.