Reaching your 25th wedding anniversary is a milestone, and an accomplishment, worthy of celebration. During those years, it is certain that couples go through every life stress, hardship, and joy that life has to offer, and when they can still turn to each other for support, it is a union that will last another 25 years. Number 25 is a big year, and it deserves to be celebrated in a big way. Silver is the traditional gift for this anniversary because it symbolizes radiance and brilliance. Here are some gift ideas for your radiant and brilliant spouse.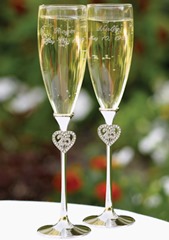 Image source weddingfavorsunlimited.com
If you like tradition, gifts will be silver, any flowers will be irises, and gemstones involved will be Tsavorite or Green Garnet. For some reason, the traditional travel destination for couples celebrating their 25th year of marriage is Mexico. No matter how that custom was founded, lounging on a beach in Cancun or Cozumel sounds like the ideal way to celebrate! Some other Silver Anniversary gift ideas include:
Jewelry or cufflinks
Photo frames
Anniversary plate
Clock
Personalized wind chimes
Engraved wine glasses or champagne flutes
Silverware
Jewelry box
Watch
Stainless steel barware
Money clips
Mirrors
Collectors' coins
Silver bars – an investment in the future.
Jewelry
Romantic anniversary basket
Jewelry is on the list twice because it is a fabulous suggestion. Appropriate for men and women, you can find pieces in virtually any price range. Silver-plated or even stainless steel pieces can be substituted in place of solid silver.
If 25 years of marriage has taught you that the best gifts are the most creative, then the Silver Anniversary is the perfect time to unleash your imagination. A fun, unique gift, and one that is sure to be appreciated, is to compile family videos and photos onto a DVD. How does this relate to silver? You have a showing of the film with your spouse and family on the silver screen, of course. Make an event of it with popcorn, beverages, 25th anniversary favors, and some family photo albums to thumb through afterwards. The film could feature a couple and their children or memories of the couple's courtship, wedding, and marriage.
You could also find a silver or silver-plated wedding certificate holder; this is a slim tube into which your rolled certificate is placed. Find your marriage certificate and put it in. If you've lost it in the 25 years since you've been married, try to obtain a copy from your town or city clerk. For a surprise for your spouse, pen a love letter and insert it into the tube as well. Your spouse could do the same, and this could be a great piece to look back at time and time again.
Your Silver Jubilee may be the perfect time to renew your wedding vows. You could hold a simple, silver-themed ceremony with close friends and family or give your bride the wedding she always wanted. Whether a simple or extravagant affair, take the time to write your own vows.
If 25 years of marriage has taught you that your partner does not adhere to traditions, then it is time to throw these suggestions to the wind. Maybe your spouse prefers gold to silver; maybe your home has all the photo frames it needs; maybe you have already traveled to Mexico. Whatever the reason, you may find that your spouse appreciates that you know what she wants rather than what gift guides say you should get her.
photo credit: 25th Anniversary Toasting Flutes from Wedding Favors Unlimited