Everyone wants to look beautiful.
In this post you will find 3 beauty gift ideas.
1. Garnier Nutritionist Caffeine Eye Roll
New Garnier Eye Roll-on enriched with caffeine is Garniers  first-ever roll-on to hydrate, cool & refresh tired-looking eyes. Garnier Eye Roll-on is enriched with Caffeine, the roll-on is a handbag must-have, great for on-the-go women. The cooling moisturiser contains Caffeine and Pro-vitamin B5 for a bright eyed look.
Price £9.78.
2. Yves Saint Laurent Touche Eclat
Discover the light by Yves Saint Laurent. This world-famous, take-anywhere pen-brush is perfect for highlighting and refreshing make-up. Yves Saint Laurent's Touche Eclat has tiny light particles and mineral extracts to create a healthy, natural glow – light, luminosity and radiance at the click of a button. Use to add a radiant touch of light or banish shadows and signs of fatigue from the eye area, the hollow of the chin, the contour of the lips and the sides of the nose. All of your best feature's will be highlighted.
Winner of the Instyle Beauty Award for Best Under Eye Concealer in 2009 and 2008.
Price £22.02.
3. No7 Illuminated Make-up Mirror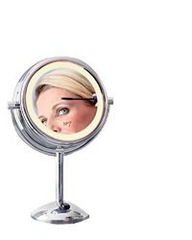 No7 Illuminated Make-up Mirror creates soft surround lighting, perfect for applying make-up.  This beautiful mirror has two sides- one normal and one 5x magnification and is mains powered.
Price £19.57.