Ladies of all ages love to wear dresses with the latest styles and designs. Dresses have long been a common style choice for women. Different occasions usually call for different dress styles. This is why women take so much time in choosing the perfect dress for an event. However, there several kinds of dresses that will surely steal every woman's heart. These dresses are great because of their appeal and versatility.
Maxi Dresses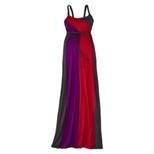 Colorblock maxi dresses are commonly found in fashion magazines and TV shows these days. These dresses have gained popularity as most well-known brands have been creating dresses in this style. These dresses have also become popular because they can accommodate different body shapes.
Maxi dresses look great whether you have a full figure, a sporty bod or a slim frame. The dress will gracefully hug every curve. You also have a large choice of styles and colors with these dresses. You can opt for solid dark colors if you want to appear smaller. Women who want to look curvier can also go for these dresses in attractive colors.
This type of dress is a unique way of adding life to a woman's closet. Their blend of colorful designs is a great break from the usual dress styles. Women have the advantage of choosing different color combinations and dress cuts. They can go for low back styles for a sexier look. Long dresses can also make women look slimmer and statuesque.
These dresses also look great all year long. Women can wear them during summer because of their bold and fun designs. You can also add a simple coat along with a pair of boots to make the dress fit for colder seasons.
Simple Black Dresses
Simple black dresses are a traditional staple in most women's closets. These dresses can be worn on many occasions with the right accessories and attitude. Women can have one simple black dress and create different looks with it.
A simple black dress can be worn on a formal dinner date. Women just need to wear the right pair of shoes and bag with the dress. A beautiful pair of earrings and a lovely necklace along with a dazzling attitude will make the simple dress stunning.
A black dress can also be worn at casual gatherings. You just need to brighten it up with some accessories. A lively scarf and lightly colored shoes will make the whole look fit for a stroll at the park.
Sunday Dresses
Women also love a perfect Sunday dress. These dresses are suitable for simple afternoon gatherings with friends like tea parties. Sunday dresses are the less formal version of the black dress and the laid back version of the maxi dress.
Sunday dresses make women look beautiful with a lovely hint of grace. There are different designs, colors and prints to choose from when looking for a Sunday dress. There are simple one-colored dresses, and there are also printed dresses for a fun look.
Accessories can also be worn along with the dress. Light colored shoes and bags are best worn during tea parties. Women can also wear gorgeous hats to complete the look.