The in-laws aren't the easiest people to buy for, are they? The mother-in-law is difficult enough, but as we all know, women are often easier to buy for than men. The father-in-law however, is a completely different kettle of fish. First, you have to find something he will like – a challenge that's tough when your husband is useless with present ideas for anybody, even his own Dad! You must make sure you can afford it, order it, wait for it to be delivered and wrap it, only to have him unconvincingly mask his disappointment on the day in question. You have one day a year to impress him and retain (or in some circumstances, get back!) the seal of approval he has given, so that you can spend the rest of your life with his child. Have a look at the list I've compiled and pick up something your father-in-law will love from the great gifts I've put together below.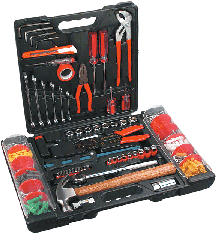 Image source scule.com
Top tools for handy homeowners
What do you get for the guy who has everything? Answer: something useful! Some men love nothing more than to get a little handy around the house and start a new project – they're always building something! If you know your Father-in-law fancies himself as something of a DIY expert, why not pick up a power tool such as a Bosch cordless drill or DeWalt jigsaw? Don't forget to buy a dustpan and brush, too, so he has something to do with the sawdust…
Retro tunes from his youth
No matter how exhaustive his music collection may be, your father-in-law is bound to be lacking a prized record or single from the glory days of his youth. Get him an iTunes voucher and chances are he'll slip it under his coffee mug as a coaster – no, most older men appreciate music only when it's presented in its 'truest form!' Vinyl has somehow managed to become cool once more despite the relentless rise of digital music, so grab him an old record by Frank Zappa, The Moody Blues or someone else you've never heard of and leave it at that.
A hamper to show thought and consideration
There are certainly gifts that will make the recipient feel happier and show more love, because of the thought and consideration that has gone into creating them. I love the idea of designing a personalised birthday hamper for your father-in-law, filling it with gifts you know they'll love. From delicious preserves to tasty chocolates, fine wines and vintage toys, whatever kind of person he is, he's bound to find something he loves in his hamper with gifts that you've chosen specifically for him. Perhaps even more so if there's wine…!
Gadgets to keep him occupied
A good gadget is enough to keep any bloke occupied for a few hours or more, and the older your father-in-law seems to get the more gadget-obsessed he seems to become! We're not talking tablet computers and smart TVs here, more like something fun, frivolous and relatively inexpensive. For instance, a Musketeer sword barbecue fork or a remote control drone piloted by his iPhone. What better way to celebrate your father-in-law than to have him behaving like a child once more?
Mementos & memorabilia
If your father-in-law can remember every goal Liverpool have scored since 1972 or weeps when The Ashes are handed over to Australia, there's only one kind of gift you need ever consider. A replica shirt is every sports fan's ultimate symbol of dedication, but if you know he is already clad head to toe in the colours of his team, why not get him something signed by one of his heroes instead?
Now that I've given you a few ideas as to what to get your father-in-law for his birthday, it's time you did a little online shopping yourself! One site I would advise using is Flubit.com. After being informed of its ability to get you the cheapest products on the web, I have not turned back and it typically saves around 10 – 15% on everything you buy. There's no better way to show your father-in-law you care without sacrificing the chance to grab yourself a bargain in the process!
Those are my top suggestions; what are yours?
Article by Laura Styles