I have found a little gadget which is a perfect romantic gift for her the Chameleon Colour Changing Candles.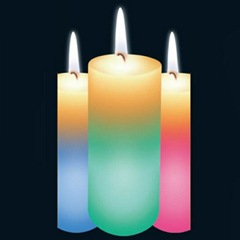 When lit this real wax candle gently phases through reds greens and blues in a never ending kaleidoscopic show creating a smooth ambience in any room or location.
The Real Wax Magic LED Colour Changing Candle burns for 20 hours.
The Magic Colour Changing Candle is great for creating ambience in intimate situations, or creating a relaxing atmosphere during a long soak in the tub.
Magic Colour Changing Candle cost £9.95 and they are available at Gadgets.co.uk.