Mother's Day is coming soon so in today post I will show you some beautiful global home decor gifts.
I said the Mother day is coming and some of you may be confused because in your country Mother day already passed. This why I want to tell you that Mother's day is celebrated on various days in many places around the world. To see the complete list if dates go to Wikipedia.
Now let me show you the gift ideas – I've found them at Cultural Gifts.
 1. Bulgarian Hand Painted Decorative Tea Pot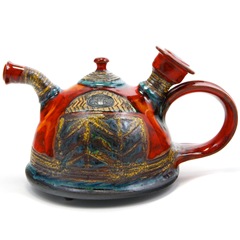 Hand made and hand painted by the master artist Danko, these decorative Tea pots are made in Bulgaria using red clay. Measures about 6 inches high and 10 inches wide, these decorative tea pots have red & teal design.
2. Hand Painted Window Photo Frame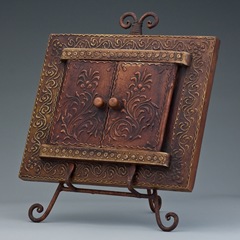 Reminiscent of the artwork done on doors and windows of royal palaces of Rajasthan, this beautifully crafted photo frame has been hand painted by artists of exemplary skill.
The unique style of carving with intricate and fine details makes this frame as much a decorative item as a utilitarian one.
3. Indian Hand Embroidered Jewelry Boxes
The colors and vibrancy of India is often found in its textiles and embroidered fabrics and goods for centuries.
A set of three boxes in green, blue and red. Each box is fabric covered and lined. Hand embroidered with traditional Zardozi and Sitara work, each box measures 4 X 4 X 3 inches.
4. Hand Painted Marble Pot
Hand painted with a vibrant orange on pure white marble this pot is 6 inches in diameter and is decorated with kundan work which is a specialty of Rajasthan. This exquisite work of art will surely add a unique artistic touch to your mother home.
5. Gemstone Blue Peruvian Decorative Tray
Made by artisans of exemplary skills and talent, it measures 18 inches x 12 inches and has handles. Available in gemstone blue design as shown.
The gifts features:
are made in different countries
true to their origin
most of them are handmade
unique and not mass produced.
From what I saw on the Global Home Decor gift wrap is available and they offer Free Standard Shipping.
In my country the Mother day was passed but for the next year I want to buy the Bulgarian Hand Painted Decorative Tea Pot or Indian Hand Embroidered Jewelry Boxes – I haven't decided yet because they are booth very beautiful.