If you're looking for the perfect gift for a young boy in your life who is celebrating a birthday, or simply wants a special present for the holidays, you've got a lot of purchasing options. Here are a few gift ideas that are particularly popular and that your boys will love.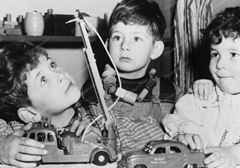 Image sent by author
Angry Birds Knock on Wood Game
Keep the Angry Birds craze going in your home, by purchasing the Knock on Wood game for the special little boy in your life. This is the board game equivalent to the electronic phenomenon that many children love to play online or on the phone. The winning player must build up his structure faster than his opponents can knock the structure down with an Angry Bird. The game comes with a bonus points egg, along with three Angry Birds and four green pigs.
NERF Vortex
Nerf darts have been around for years, and most young boys love to aim them at family and friends. The Vortex from Nerf is an advanced toy that launches discs, with variations of the toy that hold between 3 and 20 discs. The toy is recommended for kids ages 8 and up, and is a fun one for summer or safe in-house play.
Mechatar
Mechatar robots are able to communicate with each other using RF technology, which is sure to keep young and tween boys interested for quite some time. Each player can make the Mechatar move on his own, or battle other friend's robots. It's also possible to go online and find ways to make the Mechatar stronger, or help the robot gain new skills. This robot won't be outdated soon.
Trading Pins
Cheap trading pins are still fascinating to boys in elementary and middle school. The pins are an advanced version of trading baseball or football cards, and feature the logos of popular sports teams. They can be worn on the lapels of jackets, backpacks, or on ties. Pins can also be customized to feature photos of friends and family or school logos at cheappins.com. When your boy can trade these for other pins amongst his friends and family, he will enjoy them for many years.
Backyard Safari Binoculars
These binoculars are available at nearly any toy store and are the perfect gift for a boy who loves exploring plants and animals. The binoculars are high-quality, but made of durable material that can withstand drops and scrapes. They're even waterproof for natural exploration in the rain. Encourage their curious tendencies with this gift.
When buying for young boys, sometimes the selection is limited, but when you think outside the box, you will find there are many kinds of toys available for lasting enjoyment.
By Brooke Chaplan