Here is today gift idea: ceiling fans. They can be offered as a new house gift. Ceiling fans are economical. Fan manufacturers estimate that consumers can save as much as 40 percent on cooling costs in summer; in winter, savings can be as much as 10 percent.
Ceiling fans are a great way of keeping cool in summer, especially when you dont want to run the air conditioner. In contrast, when you need warmth in winter months, you can bring down the warm air accumulated near you ceiling by running your ceiling fan in low and reverse speed.
Casablanca ceiling fans represents the successful synergy of elegance, versatility, efficiency, endurance  and comfort. See the picture below.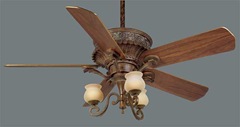 The fan form the image is called Barolo. With its artisan-quality craftsmanship, hand-painted Tuscan Sunset finish, and seamless performance, the Barolo ceiling fan is equally suited for an elegant villa or today's Mediterranean-style homes.
You can find craftmade fans to fit many tastes and types of houses from classical fant to ultra modern ones.
Popular ceiling fan manufacturers are: Casablanca, Craftmade, Ellington, Fanimation, Hunter Fan Company, Luceplan, Matthews Fans, Minka Aire, Modern Fan Company, Monte Carlo, NuTone, Quorum and Westinghouse.
Conclusion a ceiling fan is a good gift idea because:
are elegant. The fan will improve the house look.
are economic. Save as much as 40 percent on cooling costs in summer; and as much as 10 percent in winter.
are in fashion. Everyone seem to like the ceiling fans.