In the nights before Christmas, when I was a child, my grandma baked sweet things and the whole house smelled so good.
So how about some Christmas baking gifts for your loved ones?
#1. Tart It Up!: Sweet & Savory Tarts & Pies Book by Eric Lanlard
Tart It Up! Sweet & Savory Tarts & Pies is the latest book of the French master patissier and presenter of Channel 4's 'Baking Mad' Eric Lanlard.
I like Eric show and I just got the book. Definitely a must have for every man or woman who enjoy baking.
The book starts with the backing basics and continues with savory tarts and pies and with the sweet ones. Now I read about the classic quiche lorraine and I want to make one. I have to admit I cheated a little bit and read some of the sweet recipes and I want to try some pies and tarts.
The images form the book are very appealing and the recipes are easy to follow. 
A good gift for anyone interested in baking.
#2. Christmas baking gifts
Home made gifts are very appreciated lately. For this Christmas me and my wife plan to bake some pies, muffins and cookies and offer them to family and friends.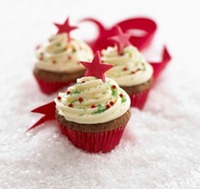 So before this Christmas get yourself a good baking book (or use the internet to find recipes) and start preparing some delicious treats for you and your loved ones. I did this last year and it was easy, fun and my family members liked their presents.