Every women need a purse so you can go wrong with this gift if you know her tastes( favorite brand,color,style).
Here are 3 popular bag models
#1. Jessica Simpson Downtown Top Zip Shoulder Bag
This Jessica Simpson shoulder bag is featured in faux leather with cool texture, attitude-filled slouch, and stud detailing.
#2. Big Buddha Haley Shoulder Bag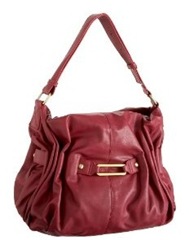 Big Buddha's Haley is just full of easy attitude. A casual, slouchy, heavily ruched shape highlighted by a single elongated ring detail make it the ideal everyday bag.
#3. Nine West In The Bag Four Poster Shopper
The soft but structured nylon body has gorgeous, leather-look trim in a classic style that will coordinate with all your favorite low-key looks. The bonus is that its multiple pockets and compartments will keep things completely organized.