Are you planning on celebrating the 4th of July with a barbecue party with your family and friends? Then you'll need a good picnic table set for the occassion.
Wait, wait. This type of opening is getting kinda boring. Perhaps I should try something else…
Are you bored of your same old picnic table? Perhaps it's about time to change your old picnic table with a new one. Right now, there are a lot of interesting picnic table designs that may transform your yard from a boring meeting place to an exciting party venue for all occassions, such as the upcoming 4th of July. If you're planning for a great Independence Day barbecue, then you may want to plan ahead before everything gets really hectic.
This is very important to those who are yet to buy or build their own picnic table. Or if you just moved to a new location and would like to change your old picnic table set.
Before we talk about picnic table designs, choose the type of picnic table that you'd like for your yard first. There's the portable picnic table. Looks very convenient and you can take it with your where you like. If you want to celebrate your 4th of July with a beach barbecue party, then you just disassemble the picnic table set and assemble it again when you're in the beach resort. The only problem with this type of picnic table set is that the design is really simple and is usually made from plastic. Usually lightweight and easy to carry around, it's only normal why these portable picnic tables are made of plastic.
Most portable picnic table designs are made to resist natural wear and tear though, which is actually fine. Asides from portable picnic tables, there's the commercial picnic tables too. These are the type that are placed permanently on your yard or garden. There are different types of designs to choose from, such as kiddie table designs, the Oriental design and others. The important thing here is to choose which design will work really well for you.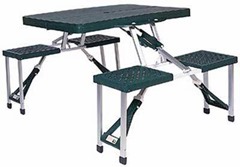 Images sent by author
Here is one example of a portable picnic table. If you notice, it's made from lightweight, durable materials. This one is made from aluminum and steel. The two seats are connected to the table, which makes it very easy to pack up once you're done with your picnic or beach outing. You just have to take care that the picnic table doesn't get rusty.
As for the commercial picnic tables, most designs are the ordinary kind. Usually made from wood, most of the designs include the original rectangular picnic table and the round table type. The round type makes it easier to arrange the seats back in the table after eating. Some commercial picnic tables have separate chairs while some designs, like this one, has incorporated the seats with the table. This is one type of picnic table design where you can just lift the whole thing and put it in a different area.
If you're ready to choose your own picnic tables, then you can visit a nearby furniture store in your area and take your pick there! Have a happy 4th of July and I sincerely do hope that you choose a really good picnic table for the occassion!
About the Author:
Jessica Greenberg is an avid blogger from San Diego, California. She loves going out with her friends on a nature hike or going to the beach for a swim. She's passionate when it comes to furniture designs and furniture selection.