Do you have friend who just move in a new house?
Here is a funny gift idea: Come in/Go away Door Mat.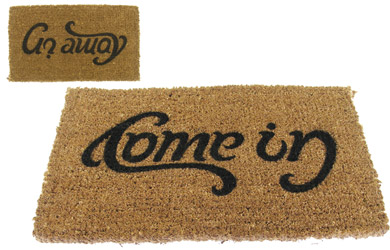 This door mat is funny yet practical, everyone needs a door mat.
On entering the house, the doormat reads 'Come in'. Yet on leaving it appears to say 'Go away'. Which is mind-boggling enough in its own right. But for a truly discombobulating effect, you might consider turning the mat around to greet unwelcome guests – meter readers, door-to-door salesmen, political pollsters and the like – with an ever-so-polite rebuke. Calligraphically confused? Don't be. It's all just an ever-so-clever visual trick.
You can get the mat online from gadget shop.