Your friends love making jogging and fitness exercises?
You can get them a pear of Sony DR-BT160AS.
Sony DR-BT160AS are Bluetooth stereo wireless headphones were created special for runners and people who like to listen to music during physical activities.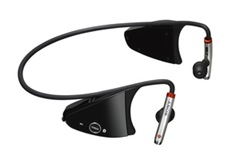 The Sony DR-BT160AS headphones can stream music from a Bluetooth friendly MP3 player or cellphone.
This headphones can be a great gift for anyone who like physical activities and music.
This is a new hi tech gadget and the headphone will be available is the stores in Octomber.