Today you will find a good gift idea for a fisherman. The idea is simple buy a small gadget called the Pocket Fishing Rod.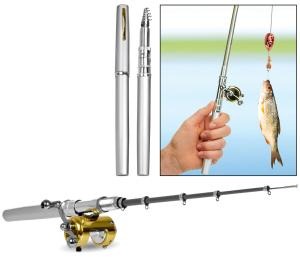 This gadget can be very useful for someone who enjoys fishing and nature.  Because the Pocket Fishing Rod is small it can be carried everywhere so the fisherman will never lose the opportunity of having a finishing day.
This clever little gadget is about the size of a large marker pen at only eight inches long, and yet opens up to become an aluminium alloy 4ft fishing rod, complete with a left and right handed reel (packed separately), a 5lb breaking strain line, and even includes a triple hook spinner.
Never again will your fishing enthusiast friend be caught short when you spot a fish rise, and it's small enough to carry everywhere.