Finding the perfect gift for your bridesmaids may prove to be quite the challenge, as they are likely to all be different as far as personality, interests, and tastes go. However, we know that you'll want to do something to honor them after all of the help they've offered in getting you to your big day, how much they celebrated with you and your fiance, and as a thank you present for their love and support as they stand by your side as you say "I do".
Image sent by author
Luckily, we've rounded up a list of our best ideas for bridesmaid gifts from you – the bride – to honor them on your special day. These ideas span all tastes and interests, and they also come at different price points. Browse through our curated list to become inspired!
Something personalized
Everyone loves something personalized or monogrammed, so treat your bridesmaids to a gift that is tailored specifically to them. This will show them that you went out of your way to get them a gift that is far from generic and that you wanted them to have something truly special as a token of your appreciation. Consider monogrammed cutting boards, custom wine glasses, beautiful personalized stationery, or an initial beach towel if you're having a destination wedding. The possibilities are endless!
Makeup and cosmetics
Nice makeup and cosmetics are always a treat, and a wedding day is the perfect time for your besties to try it out! Consider giving your bridesmaids a bag of makeup goodies as a present, and it's sure to be a gift that is not only fun to receive, but also very useful! The other thing we love about this idea is that you can tailor each little bag to the likes and preferences of the individual. Everyone has their own beauty style, and that should be embraced with this gift! Fill up their stock with lip gloss, perfume, and an eye shadow palette. They'll love using it on your big day and for a long time to come!
Jewelry
Gifting your bridesmaids a piece of something sparkly as a thank you gift is a nice gesture, and prior to contrary belief, it doesn't have to be something that breaks the bank! There are so many different jewelry options out there that it's impossible not to find something your squad will fall in love with. Channel your bride tribe's more spiritual side by spotlighting alternative jewelry style in your gift – it's always fun to do something different that gives your friends a bit of an edge, especially if the piece has a special meaning that they'll cherish. Or you could give something with an initial for a piece that is personalized, or find something with color that really pops to add to their statement piece collection. Whatever you choose, know that they'll think of you and your special day each time they wear this piece!
Alcohol and accessories
Many people like to indulge in a few drinks and cocktails on a wedding day, so providing your group with some delicious drinks wouldn't be out of line! Pick a favorite champagne or spirit and gift it to your friends, accompanying the bottles with a chic flask, fun wine glasses, or a set of pretty coasters. What a perfect way to say "cheers"!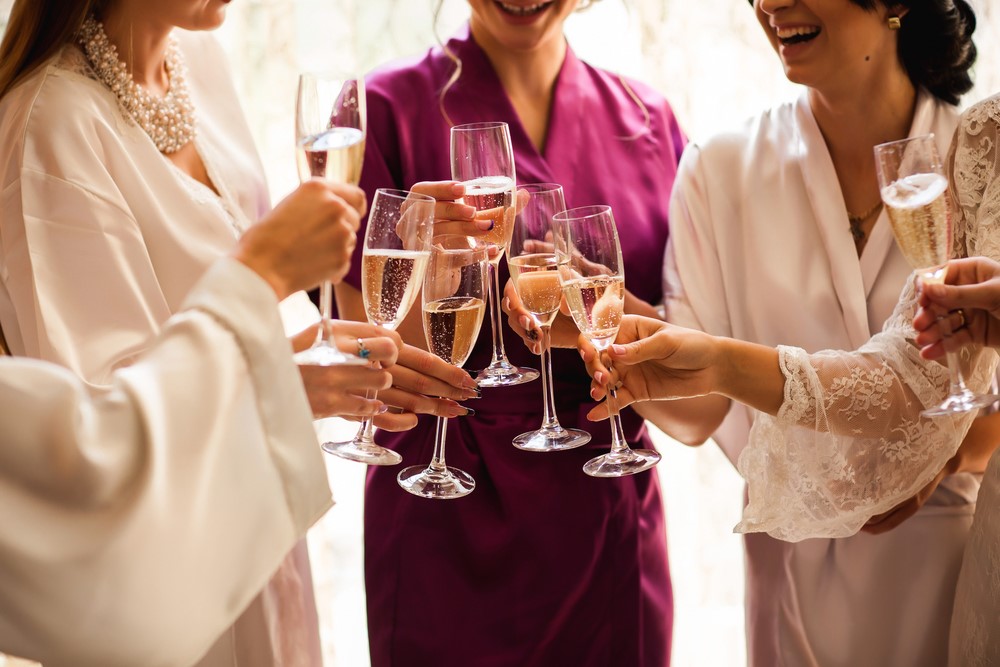 Keep in mind that however you choose to thank your bride tribe, they're bound to appreciate the gesture. Choose a gift that complements their styles and interests and you're bound to cause smiles, hugs, and maybe even a few tears as they open their thoughtful gifts!
By Gwen Lewis