Birthday occasion in itself is a special moment for any individual, after all it is the day he or she took birth. Basically, when it comes to female's birthday, she has a lot more to care of. She needs a plan for her dress up, to her hairstyle. After all, it is her birthday, and the only special day where the world will be for her.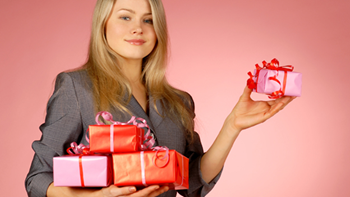 Image sent by author
A gift certainly adds charm to this day. In fact, birthday without gifts is incomplete anyway. The sensitive nature of female is the reason why the confusion exists regarding the choices for choices of gifts for her birthday. The gift choices may vary, but there are certain things that a girl will always love as a gift. You certainly won't need a second thought in choosing these gifts.
List of gift ideas
It is always wise to keep a broad line of selection, than getting specific for gifts! Here is a list of a few things that she will certainly love about, for her Birthday. You can find even more birthday gift ideas other than mentioned below.
· Ornaments
They are generally expensive gifts, and maybe out of the pocket thing too. But, if it is the birthday of really close ones, gifting ornaments would be the best idea. She will certainly love the gift, and make her realize how important she is for you. There hardly are any girls who don't like ornaments. Necklace, earring, ring, chain, locket are the things that she will always preserve, and also remind her time and again. I remember cousin, and her excitement, when she was gifted a gold earring on her birthday!
· Latest Gadgets
They also fall under expensive gifts. If she is already using an I-phone, it would be worth if you gift lower than that. The gadget needs to be the latest one, and you must be sure that she is not using it, or she is using lower quality than that of it. You can gift her DSLR if she is using a normal camera! She may not like same camera that she had been using, but if you are aware of what she is not having, you can present it to her! This will make her feel really special.
· Cosmetic Accessories
This can be something difficult. You must stay aware regarding her choices. If you gift her red lipstick, and she never uses, she will not be excited about the gift for sure. So, you need to be careful enough to make an analyzed selection. Hair bands can be gifted. Or something common, that she will definitely use can be gifted like perfume, or nail polish remover. But you must be sure that they are of good quality!
· Cloths
You can certainly gift her a good tee, or pants. You can certainly go for her choices of brands.
· Novels
If she loves to read books or any good reading material, then latest novel is always a good choice! But, the presenter must stay aware about the recent novel that she has not gone through. Okay, there may be people who won't have any interest in reading novels too. For them, simple novels like those of Chetan Bhagat, or Paulo Coelho from where she can start reading would not be a bad choice either.
I remember gifting one of my friend Chetan Bhagat's novel, who never used to read novels. She later bought all other Bhagat's novel and turned out to be his fan. By the way Chetan Bhagat is an Indian famous writer.
· Paintings
Females are more concerned about the interior of the house. Painting is always a good choice to make it more beautiful. This gift will be remembered for years because painting will be there on the wall, and visitors who visit the house will definitely talk about the painting once they visit her house.
· Dolls
Girls do love dolls from their initial days, and they love it even after their teenage gets over. Let that be a simple doll. She will have a space in her bedroom to keep it. No matter how many doll she will have, she will always make space in her room for this one. So, teddy bears, or any doll would make her happy when presented as a gift!
· Other Accessories
Mobile accessories like mobile cover, or mobile rings, or any mobile accessories like sticker would let her decorate her mobile, and hence she would be satisfied with it. Key rings where she can keep her keys together or let that be for her bags would also make her happy. Water bottles, diaries or any cute thing would make smile. If she is into gardening, and can take proper care of plants, then gifting any house plant would be a good choice.
· Chocolates
No doubt! Girls are fond of chocolates. You can gift a chocolate box of her choice and believe me whatsoever the occasion is, she will love to have chocolates as a gift.
· Surprise Birthday Party
It is more about gifting her an event than any product! Surprise birthday party at 00:00 AM, would be a great idea! All you need is cake, and maybe some bottles of wine. You can plan out many more things for her birthday. You can call her friends, relatives or family members for a surprise party.
These were few gift ideas for your female best friend birthday. I hope you enjoyed reading this list of gift ideas. You can find more such kind of gift ideas.
By Nidhi