Golf is one of the sports that is enjoyed by many, regardless of age and gender. It allows the player to socialize, be challenged, or to simply relax. If you happen to have a dad or a good friend or whose life is about swinging clubs, here are some gift ideas you can get him on his special day or any random day.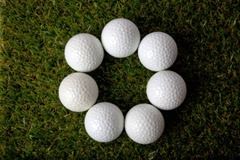 Image sent by author
Range finder or golf GPS
One of the challenges and probably annoying things to think about when golfing is identifying how far the green is. Your friend can skip relying on those out of date yardage markers when you get him a rangefinder or golf GPS. This is a golf-related gift that will surely be appreciated. It will give the player an idea of what their actual yardage is to the hole. It's compact, handy, stylish, and even often designed as a watch. Some says it's even like having a very own caddie when it comes to directions.
Golf balls and ball marking stencil
Believe it or not, this is actually one thing that a golfer will love because he can never have too many of. After all, a golf ball is something that is always needed in the game. Give a set of golf balls to a golf enthusiast and make it even more special by also paring them with a ball marking stencil. This is an item that you are most likely to find online. The stencil allows the golfer to mark his own balls with a unique design. It will make identifying balls easier when they are lost or mixed with other player's.
A Golf Club Membership
Getting a membership at a golf club is not only convenient, it's also more money-saving in the long run. So why not give your golfer friend a club membership? It's a little pricey but you can try to find a good deal through promos or special offers that allow even just a month-long membership. Knowing that you can just go to a golf club with great amenities anytime you want is certainly a great way to enjoy a hobby.
Golf Grips
The best golfers know how to properly grip their golf clubs. But of course this is a skill that can be learned especially if you are using the correct equipment. Make sure your golfer friend has the right grip size. Or, you can replace his worn out one by getting him a new one. You can purchase customized grips from Lamkin Grips or other brands that focus on the importance of using the correct size and material when it comes to golf grips. This gift item will surely make your friend's golfing experiencing more fun.
Glamorous golf course trip
If you are feeling extremely extravagant, then a trip to some of the world's most extravagant golf courses might just be the kind of gift you want to give. A golf lover will never say no to a trip to Pebble Beach Golf Links, Shadow Creek Golf Course, or Pinehurst Course Number 2. These are among U.S.A.'s most popular golf courses because of their vast greens and the remarkable golf events that they host. Pebble Beach is known to be a venue for the US Open and Ryder Cup, while Pinehurst Course Number 2 has hosted several major tournaments and is set to be the venue for the US Open in 2014. If you want to take your gift a notch higher you can explore foreign countries for more breathtaking golf courses like Kingsbarns Golf Links in Scotland and Old Head Golf Links in Ireland.
A blogger based in San Diego, California, Amanda Smith has a penchant for writing about technology and gadgets, travel and arts, health and wellness, and just about anything that tickles her fancy. When she's not writing, she's busy catching up on her favorite sitcoms with her yellow Labrador, Chandler Tribbiani. More of her works can be found at wordbaristas.com.