Often times last minute gifts are needed for the "oh crap!" times when someone gets you a present and you don't have anything on hand for them.
Wrigley's brand new twist on the traditional fruit basket – a fruit-inspired gum basket—is a cute, easily shareable and practical option that can be quickly be "en route" to recipients.
Here are the models you can choose from:
#1. Wrigley's Fun Gum Gift Box
Wrigley's Fun Gum Gift Box is the perfect alternative to the traditional fruit gift basket. Inside you will find the latest fruit flavors of your favorite gums like Extra, Orbit, Juicy Fruit, Big League Chew, 5™ and Hubba Bubba.
#2. Wrigley's Fabulous Fruit Gum Gift Basket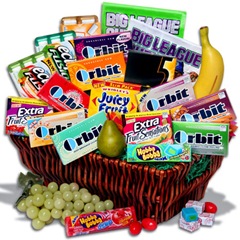 This gift basket look great. Inside you will find the latest fruit flavored gum brands like: Extra, Orbit, Juicy Fruit, Big League Chew, 5 and Hubba Bubba
Remember chewing gum may:
actually play a role in reducing cravings for snacks
reducing stress and tension