Worried about what gifts you're going to buy in the year ahead? Worry no longer, as we've got a list of our favourite five unique and creative gifts that'll have her smiling the moment she unwraps them.
Jewellery
Not the most creative start, perhaps, but it's a good solid choice. Rather than going for something off-the-shelf, why not take a chance on something a little more unique? Etsy is filled with potential for this – from huge pendants to delicate stud earrings. If you're even a little artistic, you can work with a willing artist to commission something extra special. The best part of going for individual artists rather than stores is the ability to choose within your budget – see a necklace you like, but gold is too expensive? Try contacting the artist and seeing if you can commission a similar piece in silver! This is a great way to show her you care – note her favourite gemstones and ask for them to be included, perhaps – or go for an unusual hypo-allergenic material like niobium if she usually struggle finding things safe to wear. Ordering custom jewellery is a great twist on a classic gift – especially if you put a touch of creativity in it.
Images sent by author
Plan an Experience
Now we're all familiar with the pre-picked 'experience' gifts, but that's not what we mean here. Instead of buying a pre-planned box, why not make one from scratch? Whether her love is the theatre or the zoo five-star hotels or backpacking you can plan something memorable and fun. The best part of this gift is that you can easily adjust it to fit your budget – a day-trip will be cheaper than a weekend away, but if you get it right it'll be just as perfect. You can have fun with the wrapping too – will you go for the classic box-within-a-box-within-a-box, or keep it simple with a beautifully designed envelope?
Perfume
Another classic gift – but once again, we're here to show you how to make it unique. As with jewellery, the internet is a wonderful place to find niche sellers, and you can find scents that will be guaranteed to stand out from the crowd. Most sites do small samples too, so if you're not sure, you can order a few different scents and allow them to choose. If you're looking for a sulty, gothic scent, we recommend Black Phoenix Alchemy Labs whereas if it's something younger and lighter, try ZOMGsmells (who wouldn't want a perfume called Baby Unicorn Birthday Party, right?). Plus, these more obscure scents are often cheaper than the celebrity-branded ones found in stores, so you can get a couple of different ones if she so desires.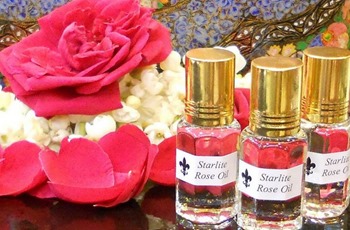 Learn a New Skill
If you're running low on money, but want to do something special, this is the option for you. Does your girlfriend love manicures, but can't find the time to get them done? Or perhaps your wife has a pinterest account full of fancy hair braids she's just never been able to master. This is where you step in – with youtube there's no excuse not to learn! Dedicate some time to perfecting the art – you can get a cheap wig (or a friend!) to practice on, or a set of false nails (or your own!). Make sure you use the incognito option on your internet browser too – you don't want them wondering what you're up to. This gift is best given alongside something cheap but relevant – for instance, an "IOU a year's worth of manicures" along with a couple of cute nail polishes will seal the deal.
Write Her Something
If it's for a partner who is a true hopeless romantic, this is a sure win. You don't have to be particularly skilled at writing either! If you're up for a challenge, have a go at a bit of poetry (we recommend sonnet form, since it's short but well-known as the medium of love). If that's too tricky for you, a simple, sincere love letter will win her heart over. Add in some classic touches – a pressed flower, perhaps – and a quote or two from her favourite romance novels or films. If you're going to do this, make sure you spend the time to make it special – get some gorgeous, quality paper and a proper pen to write it in. After all, it'll be something she'll want to keep forever.
By Jason Phillips and VeritasGifts.co.uk!