During the hot summer months everyone is trying to stay as cool as they possibly can, during this time many people choose to go to the beach, pools or simply stay indoors enjoying air conditioning and cool beverages. Besides that cold glass of lemonade which so many of us enjoy, many like to eat ice-cream, now ice cream is a favorite all year round but during the summer months when the heat is high, it becomes an even tastier treat.
A great idea for the summer months is to give someone their own ice-cream maker, there is no doubt this will be greatly appreciated especially if there are kids in the home. They will be able to make their own ice-cream with all kinds of delicious flavors.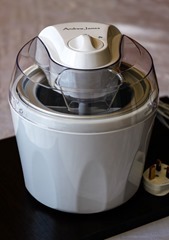 A great choice is the Andrew James Ice Cream Maker. It has been ranked as one of the top ten ice cream makers by The Independent Newspaper and it is no wonder as it has so many wonderful features. This superb ice cream maker will create delicious ice cream in at least 20 to 30 minutes. It even comes with a 128 page recipe book! No need to scratch your head trying to find recipes online or coming up with your own, although you can do that if you are so inclined.
The Andrew James Ice Cream Maker has these great additional features:
fast freezing insulate bowl so you can have your frozen treat sooner rather than later
it doesn't just make ice cream! You can make a sorbet or even frozen yogurt!
you can make up to 1.45 litres of ice cream all at once, so that you can have a good size serving from one round of ice-cream making
the ingredient funnel is large enough so that you don't have to force your ingredients in, they go down smooth
no hassle cleaning, as the parts are easily detached
keep it quiet, this machine has a low noise level of 65dba
Make the Andrew James Ice Cream Maker, your gift of choice this summer, you'll be loved for it!