They say diamonds are a girl's best friend, but the truth is diamonds can look fabulous on both men and women. Forget diamond rings and diamond earrings; instead, consider getting your loved one a diamond bracelet.
Braided Diamond Bangle Bracelet
The braid has and always will be a stunning yet traditional design for bracelets, and this beautiful braided diamond pink gold bangle bracelet features an incredible 188 brilliant cut diamonds that sparkle and shine and catch the eye.
This is a perfect gift to buy for your mother or your wife as the design speaks of both sophistication and unity.
This is an elegant and timeless piece that the woman in your life will treasure forever.
Infinity Diamond Fashion Bracelet
The mathematical symbol for infinity has been incorporated into an array of artistic pieces to demonstrate both unity and endless love from one person to another.
The simple 'figure of 8' symbol that we are all so familiar with has also been used with certain pieces of jewellery with great success. This particular infinity diamond fashion bracelet features more than 250 round brilliant cut diamonds, creating a pink gold bracelet with a carat weight of 2.18 carats, which is certain to impress the love of our life.
White Gold Line Diamond Bracelet
Pink gold isn't a color for everyone; however, white gold is an alternative that you should consider. The white gold line diamond bracelet is a perfect example of understated beauty. It's perfect balance of diamonds and bracelet demonstrates how discreet a beautiful diamond bracelet can be. As this beautiful piece of wrist-wear demonstrates, diamond bracelets do not have to be statement pieces. Instead, there is considerable elegance to be found in simplistic and modest designs.
Microset Flower Shape Diamond Bangle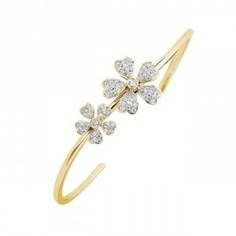 If you're looking for a gift for Mother's Day then you should definitely consider the microset flower shape diamond bangle.
This beautiful and elegant yellow gold bangle is decorated with two diamond flowers, giving the entire piece a wonderful spring feel throughout.
A total of 82 diamonds are used to decorate the two flowers, and this gorgeous piece of jewellery will tell your mother just how much she means to you.
Spiral Diamond Bangle Bracelet
If you're looking for a white gold piece that includes a simplistic and uncomplicated design then the spiral diamond bangle bracelet is the perfect choice for you. This modern design includes a simple 'O' in the middle of the design, which is surrounded by small but perfectly formed prong set diamonds.
Round and Square Bezels Diamond Bracelet
If you want to buy a diamond bracelet for an unusual and artistic woman then you simply have to consider investing in the round and square bezels diamond bracelet. Weighing at more than 1 carat this beautiful piece is beset with diamonds on bezels that alternate between little round circles and tiny organized squares. This intricate platinum piece has a very striking shape and design that will appeal to the artistic lady in your life.
Yellow Gold Diamond Bangle Bracelet
This is a classical yet contemporary piece who's simplistic design ensures that it will work perfectly with any outfit. 60 micro prong diamonds are set in a single straight line to create a much loved classic that will wow any woman.
Five Row Diamond Bracelets
For a piece that speaks of pure exquisite elegance and grace it has to be the impressive and intricate five row diamond bracelet. This beautiful bracelet creates a silky soft almost snakelike feel as it sits smoothly on the wrist. Weighing in at more than 4 carats this stunning piece of jewellery contains more than 550 diamonds.
"Dad" Bracelet Diamond Accents in Stainless Steel

Men also love diamonds, but they need them to be set in a metal that is both durable as well as beautiful. This gorgeous link bracelet has the simple word 'DAD' inscribed on the plate in a simple capitalized font that is decorated with diamonds. This is the perfect gift for Father's Day.
Men's Link Stainless Steel Bracelet with Diamond Accent
If you like the idea of getting the man in your life a bracelet like this, but you don't perhaps want the fatherly inscription, then you may want to consider the Men's link bracelet. This beautiful intricate piece is sturdy yet elegant, and includes a single diamond on the buckle clasp.
Author Bio: The article is being contributed by Jason Phillips. He has website for jewellery and fashion accessories. The most famous product of the site is moon bracelet which is highly purchased by the people.