Like I said in my previous posts I like offering gift baskets to family, friends and business partners because there are so many options and it is really easy to find a something for the receiver taste.
For this Valentine's Day I want to get a gift basket full of sweets treats and a champagne bottle for my wife. The idea is to use the basket and spend a romantic day.
Today I will show you some of my favorite Valentine's Day Gift Baskets. Before showing you my favorites I have a quick tip get a basket with chocolate, sweets treats, wine or champagne and a teddy bear (if she likes plush toys – most women do) for her and get a basket with a stronger drink like whisky, gin or vodka and sweets combined with gourmand treats for him.
My favorite Valentine's Day gift baskets for her
#1. Valentine's Extravaganza
This gift basket is a great Valentine's day present for her because all women like chocolate. It has all the most wanted goodies but I would recommend getting a bottle of champagne to go along with this basket.
#2. Valentines Spa Basket
In our days women like to be spoiled from time to time. A special treat is a day at spa. And you can offer her a spa day along with this gift baskets which has the best spa products.
#3. Beary Sweet Basket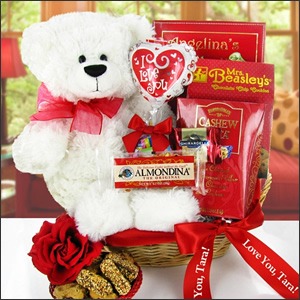 If she likes teddy bears you should het her this gift baskets which contains a lovely bear and a selection of delicious sweets.