No idea what to get him for Valentine's day? I have found a Valentines Day Treat For Him.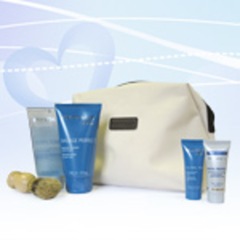 This Phytomer Homme collection provides top-to-toe cleansing with Detoxifying Cleasnsing Gel for the face and Detoxyfing Shower Gel, leaving your skin and hair feeling thoroughly clean.
Also includes the Shaving Mask formula which promotes a smooth, close shave allowing a razor blade to slide easily without skin irritation. The collection is completed by Facial Protect 15ml, a non-oily face cream which provides everyday comfort and moisturisation.
Valentines Day Treat For Him contains:
Corps Tonic Detoxifying Shower Gel 150ml
Rasage Perfect Shaving Mask 150ml
Global Pur Detoxifying Cleansing Gel 15ml
Facial Protect Comforting Moisturising Care 15ml
Toiletry Bag
Shaving Brush
This gift can be purchased from TheBeautyRoom.co.uk.
If you need gift ideas inspiration, check out GiftGen.co.uk. It's a very easy to use site for generating gift ideas – you just have to do choose a budget, age, character and gender.