Everyone loves a good Christmas meal and this is why gourmet Christmas gift baskets are some of the most appreciated presents. You can go wrong by offering a gift basket for this Christmas.
But there are so many gourmet gift baskets available. Which one to choose? To help you decide we have put together a top with the best gourmet Christmas gift baskets.
#1. Only food gift baskets
The most loved are the sweet things so be sure the gift basket includes them.
When choosing a food gift basket to offer it as a Christmas present be sure to check if the food tastes good and also if it looks good. If you know what food brands the receiver prefers go for them, if you have no idea what he/she prefers opt for variety and famous brands.
#2. Cheese and wine gift baskets
Usually gourmands like cheese and what goes better with a good cheese if not a wine?
You can't go wrong by offering a cheese and wine gift basket to a food addict. Everyone knows that quality cheeses are best along with a good wine.
Choosing a cheese and wine gift baskets is not going to be hard. First you have to know what are her/his tastes when it comes to wine and cheese. However if you can't find out what she/he prefers you can get a basket with good reviews – in most cases the gourmands love to explore and taste new things.
#3. Quality drinks Christmas gift baskets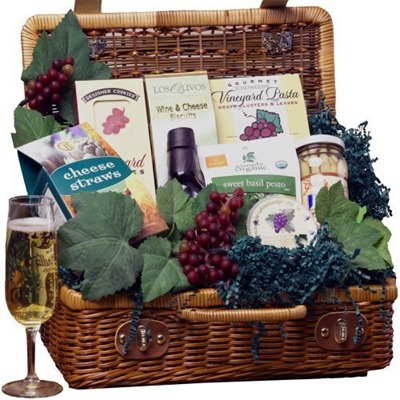 We all enjoy a good drink once in while. Usually drinks make the meals even better.
Get his/hers favorite brand of wine or get something exotic and let the receiver experiment and try new flavors.
For someone who prefers beer get a basket with different famous world brands.
#4. Christmas fruit baskets
For the ones who don't like the rich, traditional, home cooked Christmas meals the fruits gift baskets are the best presents.
Because more and more people are concerned about their health they prefer to eat lots of fresh fruits. And because everyone seems to love organic products opt for these if you can.
The gourmet gift baskets are the perfect Christmas food presents.