Someone did something for you and you want to say thank you? One of the best way to show your gratitude is by offering a thank you basket gift.
Below you have 3 beautiful thank you gift baskets:
#1. Thanks a Million Gift Set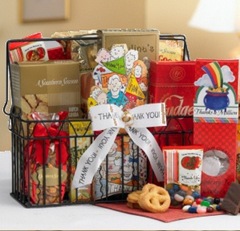 This thank you basket filled with tasty gifts will deliver your message.
Inside they'll find German Pound Cake, Butter Toffee Peanuts, Feel Good Snack Mix, Cheese Lover's Pub Mix, Jelly Belly Jelly Beans, Chocolate Fudge, Raspberry Cookies, Tropical Real Fruit Snack, Holland Cheese Biscuits and Butter Cookies.
#2. Thank You Popcorn Tin
This is a fantastic present for someone who loves popcorn.
Show your gratitude with a fresh-popped tin of our gourmet popcorn. It's a delicious way to say thank you and their sure to appreciate your thoughtfulness.
Each tin includes 4 unforgettable varieties of popcorn, plus two snack items. They'll enjoy White Cheddar, Caramel, Cookies & Cream, and Chocolate Fudge Brownie Popcorn.
#3. Elegant Thank You Gift Basket
This gorgeous thank you gift is an extravaganza of gourmet delicacies like Chocolate Fudge Shortbread Cookies, Sonoma Cheese Straws, Chocolate Chip Cookies, Traditional Butter Cookies, Brie Cheese Spread, Napa Valley Mustard, Beef Salami, Roasted Almonds with Sea Salt, Black Pepper Crackers, 8 Ghirardelli Chocolate Squares, Chocolate Popcorn, Ghirardelli Mint Chocolate Bar and Honey Roasted Peanuts.
You can find more gift baskets on Aagiftsandbaskets.com.