Beautiful flowers are always appreciated. This is why I have selected 5 of the most beautiful bouquets to give you some ideas. Also you will find a bonus present ideas at the end of the post 🙂 .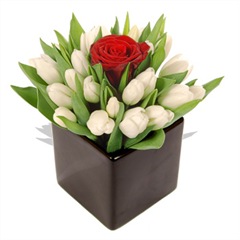 A single luxurious red rose plunged deep into the clutches of twenty dreamy, white Tulips. This charming small display is arranged in a black ceramic cube and needs no work or adjustments. With Tulips translating into "You are the perfect lover" and the obvious romantic links with red Roses these two varieties are a match made in heaven. The perfect choice to signify to the one you love just how much they stand out in a crowd.
Forever Yours
A vibrant mix of fragrant freesias and vivid alstromeria, both symbolising friendship and maturity of a relationship – a perfect gift for a loved-one or soulmate, all displayed in an easycare arrangement suitable for home or office.
If you love tulips, you'll be overwhelmed by this bouquet. Beautiful tulips in bright, vivid colors – totally irresistible.
Strelitzia Tropical Arrangement
This stunning tropical arrangement combines Strelitzias, also known as "the bird of paradise" due to its resemblance to the exotic bird species as well as bamboo and leucodendron or "safari sunset". Due to its strong stem, long lasting flowers and versatile nature, this Strelitzia arrangement is the ideal gift for both male and female recipients.
If you love freesia, you simply can't fail to fall in love with this small arrangement.  Full of vibrant colour and amazingly scented, it is an irresistible gift for old and young alike.
Bonus present idea
You can use the I Love You Teddy Bear near the flowers to maximize the effect.