The latest gadgets and gizmos have many fans and this means you can offer special presents to technology enthusiasts.
I got the idea for this post when I look at my latest gadgets which I got from Miniinthebox.com.
4 Gift Ideas For a Technology Enthusiast:
1. Wireless Earphone Headphone 5 in 1 for Audio MP3 PC TV DVD
We all like the wireless technology because it gives us extra freedom. The 5 in 1  headphones have 5 different functions:
wireless headphone
wireless net chat
monitoring
FM radio
wired headphone
You can use the set for wireless reception from any electrical device which uses audio output such as: TV, PC game console, DVD player, audio devices, Mp3 player and Cd player.
Also it can be used as an audio chat tool (Skype, Messenger) because the device has an incorporated mic. And it can be used as a monitor for babies, old people, sick people and so on.
Extra the Wireless Earphone Headphone 5 in 1 for Audio MP3 PC TV DVD set can be used for listening to FM radio and as a wired headphone.
Offer this tech gift to someone who:
uses a programs like Skype
likes to be wire free when listening to music
wants to watch TV or listen to music without disturbing others
has little kids or persons who require attention
2. USB Powered Coffee Warmer
A simple but cool gadget. Just plug it to USB and it will keep your coffee or tea warm.
This gift will be appreciated by all people who drink tea or coffee at the computer.
3. Digital kitchen thermometer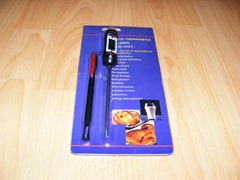 For me this gadget is very useful in the kitchen. I use it to set the temperature for my oven because I have many recipes which are made for an electric oven and mine uses gas.
This is a recommended present for people who love to cook and for the ones who spent their time gardening (for getting the soil temperature).
4. Multimeter Xiole DT9205A Yellow Black Large
This is an useful device if you like to test / repair electrics. I use it often to see which accumulators are charged and which are not. Also when I need to test something to see if it is working I use the multimeter,.
This gift is for tech enthusiasts only!