I've got the idea this Christmas when my wife bought me a quality chef's knife. People who love to cook are allays passionate about kitchen items so offer them the eKitch Ceramic knives set.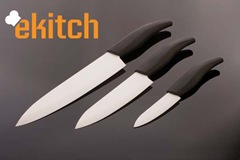 eKitch Ceramic knives are ultra sharp and they will stay that way. Ergonomic and lightweight, they will take on the the toughest of tasks.
The ceramic knifes are great at cutting cooked and uncooked meat, and slicing vegetables very thinly.
You can get the eKitch Ceramic Knife set from GadgetsUk.com.