Kids love things that are created for them, this is why offering them a Cd Player for kids is an good idea.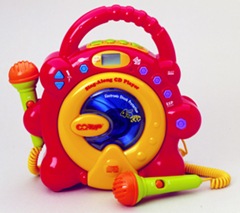 This music machine is easy to use, durably cased and competitively priced. It has a handle for little hands to hold, a sing-along mike, a snazzy look that children can go absolutely karaoke crazy over.
If excessively jostled, this CD Player stops and then picks up exactly on mark. The unit has a 45 second Electronic Shock Protection. It even has a built in CD Case holder.
This can be a good Christmas gift for kids.
You can find the Cd Player for kids on Kazootoys.com.