The gifts presented in this post can be offered to a boy or a girl.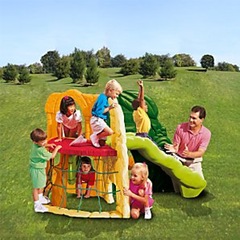 A climbing frame with a difference. With a jungle theme, it has an unrivalled combination of platforms, openings, a cargo net for climbing, a spinning door and talk tubes for passing `secret` messages. Partial self assembly required.
Maxi Micro scooter Black with Free Blue Frog Light
The new Maxi Micro scooter is from the same Swiss designers as the best selling Mini Micro scooter. It's based on the Mini Micro scooter but scaled up and reinforced for older children.
The styling is sharper and edgier, while remaining light and fun. The Maxi comes with a T-bar handle and a robust and well balanced structure.
And now, thanks to the free frog light which attaches to the handle bar, kids will be able to zoom around on their scooter all day long. You can choose to have the light on either a constantly lit mode, or flashing. The light easily fits on to the handle bars thanks to its flexible silicon body.
10 in 1 Games Compendium
Now there's never any excuse to be bored. This all-wooden set contains no less than 10 traditional games.
Contents:
Chess
Draughts
Chinese Chequers
Backgammon
Noughts & Crosses
Snakes & Ladders
Ludo
Solitaire
Nine Men's Morris
Pick up Sticks
Playmobil 4404 Hospital
Playmobil's magnificent modern hospital is equipped with a working lift which can fit a patient's bed, adjustable operating table and lots of other medical and office equipment and accessories.
It comes with 8 figures including a clown to cheer up the poorly children.
Playmobil Circus Ring
Playmobil has created this vibrant circus ring, so you can visit the circus any day of the week. Bright LED lights and the the fearless ringmaster invite you to the show.
With vibrant colours and action galore, it comes with 7 Playmobil figures and enough seats for 30 spectators. The opening of the red and white striped big top is adjustable.