When it comes to our Christmas list, one thing that's never missing in the pad is the three-letter word, "mom." Whether it's her birthday or just any random day, there's always a good excuse to give something special to the first woman in our lives. It's a good way to show appreciation for everything she has done for the family. And oh, it doesn't hurt that she always seems to enjoy the kind gesture. This holiday, make sure you get her a classic gift that will surely bring a smile to her face. For timeless gifts that she can treasure for the years to come, here are some ideas.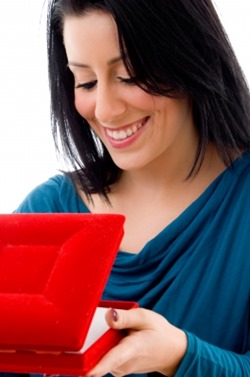 Image sent by author
Watch
Always a classy and classic gift, a watch will never fail to charm any receiver. This is especially delightful if you know that your mom is a woman who is very time-conscious. If you want budget-friendly yet stylish, you can opt for Swatch, Oasis, and other similar brands. But if you want to get a little extravagant with your gift, designer brands like Cartier, Bulgari, and Tag Heuer are known to come up with elegant women's watch designs which you can choose from. Determine what type of watch your mother would want depending on her hobbies and lifestyle. There are watches especially designed for the outdoors, some are perfect for everyday use, and there are also those that are sophisticated enough to pair with cocktail dresses.
Book
If there's one material object that can really penetrate through a person's soul, it would be a book. Ditch the ebooks this time and allow your mom to experience once again the excitement of turning pages and taking in the familiar old scent of each leaf. If she has always been a bookworm, you'll find it easier to identify what books she likes. But if she barely spends time reading, you might want to get her something that has a lighter theme. Whether it's a vintage literary piece or a fresh New York Times bestseller, a book is something she can always turn to for isnpiration and could be kept for a very long time.
Personalized Pens
Nothing says "I got this especially for you" than something that has the recipient's name on it. Incorporate this idea to an item that is actually useful, like a pen! Even with her smartphone's useful apps, your mom will definitely appreciate this classic gift. Get her something that matches her personality. Will it be floral in design or embellished with synthetic gold? You can best find this type of gift online. Brands like National Pen give you a wide selection of pens and other items that you can customize. Just make sure you have enough time to place your order as personalized items tend to take much longer time to be prepared and delivered.
Jewelry
For any women, even your mom, any piece of jewelry would be a great gift to treasure. It's price is one thing, but it's the act of really spending on something just to make someone happy is what makes it really special. A necklace, a bracelet, or a pair of earrings are good pieces to start with. Make it even more memorable by getting something that has your mother's birthstone or initials on it.
A blogger based in San Diego, California, Amanda Smith has a penchant for writing about technology and gadgets, travel and arts, health and wellness, and just about anything that tickles her fancy. When she's not writing, she's busy catching up on her favorite sitcoms with her yellow Labrador, Chandler Tribbiani. More of her works can be found at wordbaristas.com.