Here is the top 10 Christmas gadgets gifts for men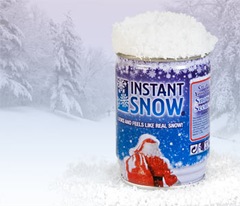 The weather in this country has a serious attitude problem. It's like a surly teenager, mood and temperament swinging wildly. Summers are plagued by rain and wind and then we have to endure the whole icy winter wishing, hoping, nay dreaming that the view outside our window will be filled with the deep crispy whiteness of snow. Everyone knows it should be sunny in the summer and snowy in the winter, but the weather just won't co-operate. Take matters into your own hands and use new Instant Snow in a Can – it looks and feels like real snow! Just pop open this magical can and add water to the sachet of white powder found inside, you'll soon have your living room looking like a winter wonderland. You needn't worry about the mess, a couple of days is all it takes for the snow to dehydrate and then you can vacuum it up, or spray some more water on it to get that Christmassy feeling all over again.
Price or the Instant Snow in a Can is £3.99.
Not to be given to wine addicts if you value your life. This frustrating puzzle will leave the wine unopened unless they can work out the secret of this cool gadget.
The price tag for the Don't Break The Bottle gadget is £19.95.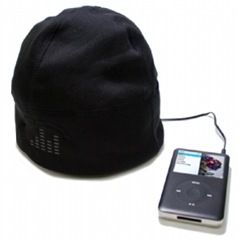 The iLogic MP3 and iPod Sound Hat allows you to connect your iPod, mp3 player, phone or other portable media device directly into the integrated speakers inside the hat!  Listen to your favourite music whilst keeping snug and cosy on a cold day.  This fantastic beanie hat is a great alternative to wearing pesky earphones when you are out jogging.  The MP3 and iPod Sound Hat is perfect for skateboarding, biking and bouncing around to your favourite Phil Collins tracks thanks to it's built-in speakers.
The price for iLogic MP3 and iPod Sound Hat is £14.90.
We all know VHS tapes were rubbish. Dodgy tracking, limited lifespan, noisy spools, below par quality…we could go on. So we will. Bulky, clunky, fragile, ridiculously slow to rewind – the list is truly endless. But for all its faults, VHS was the leading video format for almost thirty years. And that's why you've got stacks of tapes languishing in the loft and piled up in the cupboard. And that's why you need the brilliant USB VHS Converter.
The price for the USB VHS Converter is £149.95.
Desktop Pinball is frantic, fantastic fun. How hot are your reflexes. You'll need super-quick reactions to be a pinball wizard. The game has two settings a 2 minute game or continuous.
The aim of the game is to keep the metal ball in the game play area and to score as many points as you can in 2 minutes, the maximum score being 999 points.
With flashing lights and zinging sounds to recreate the arcade magic.
Desktop Pinball price is £12.95.
Wunderbar Thermo Beer Dispenser
Stop standing there and get pulling. Your fridge is clearly no place for a beer. Beer belongs in a pint glass, freshly poured with that unmistakable draught taste. So to save you having to build a complete replica of the Rovers Return in your living room to enjoy a pristine pint of the golden fluid, invest in this chilled little number. Ingenious thermo-cooling technology chills the standard 5 litre keg down to a delicious 5 degrees celsius in a matter of hours (in fact it'll work splendidly with a 4 or 6 litre barrel as well), then pull away to your hearts content as the high-technology tap dispenses just the right mix of beer and foam to keep even the most ardent sandal-wearing beer aficionado happily sozzled.
The price tag for the Wunderbar Thermo Beer Dispenser is £149.99.
Drumsticks that don't need a drum – holy wonderment! Each of these wicked drumsticks a.k.a Rhythm Sticks has a speaker in its base, and when you 'hit' the air with them, they make a great drum sound! Is this just us, or isn't this like everyone's dream come true? You'd think so if the racket going on 'round here was anything to go by. Any time someone cracks a joke there's a scramble for the stix so someone can do a drum roll and cymbal crash. Switches on the sticks let you choose between a classical drum beat, an electronic drum beat (so we can all drum along to the intro of East Enders now) and a cymbal crash and the ends even light up with each beat – vital for night drumming.
Rhythm Sticks price is £9.95.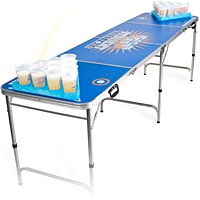 There are no official rules but most Beer Pongers arrange their cups in a triangular configuration. Teams (usually two-a-side) take it in turns to chuck or bounce the ping pong-style ball into their opponents' cups. When a ball lands in a cup, the defending team must neck that cup's beer. The game is won by eliminating all the opposition's cups before your own cups are gone. Losers must then consume all the beer left in the winning team's cups.
The price for Beer Pong is £24.95.
Get on down to the wick-a-wick-wicked sounds of the underground, as we believe they're called, with the formidable assistance of this highly dashing turntable enabling the conversion of one's fantastic plastic to the ubiquitous MP3 digital audio format via the wonder of USB.
With all the functionality of a set of decks that is well old-skool, so to speak, the TTUSB is a miniature silvery marvel that will elevate your old vinyl collection to the status of the very hippest downloads and make it fit for a new generation of portable music devices, daddy-o. It even connects to one's home stereo, if one hasn't taken it down to the tip yet.
The price tag for the USB Turntable is £99.99.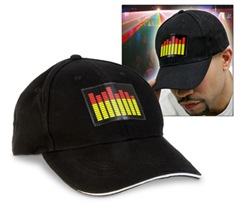 Make sure your headgear attracts some attention with the new T Qualizer baseball cap.
Following on from the hugely popular T Qualizer graphic equaliser t-shirts, the new TQualizer light up baseball cap features a sound sensitive graphic equaliser panel that pulses to the beat of the sounds all around.
A small battery pack powered by two mini CR2032 batteries that sits unobtrusively in the lining at the back of the cap powers the graphic equaliser panel.
T Qualizer Cap price is £9.95.
Article recommended by Friv 2015 – Friv Games