Flower gifts will always be appreciated. Every woman I know loves to receive a beautiful bouquet of flowers.
These gifts are extremely versatile. Flowers can be offered on various occasions and to express your feelings.
The guys from Debenhams emailed me the other days announcing me about their Christmas flowers offers.I had a look and there were a lot of beautiful gifts so I sent a bouquet (you can see it in the images inserted in this post) to my best friend's wife.
I only seen the flowers online before sending them and I was curios if she will like them. The delivery was fast – she got the flowers the second day and she loves them.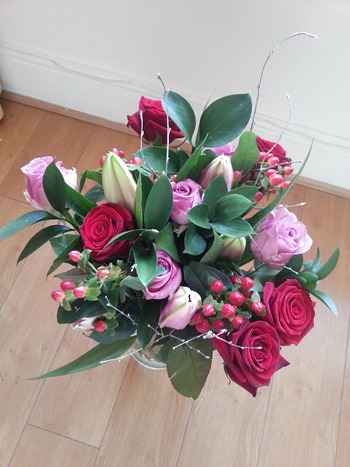 The flower gifts may seem strange for some people but I think that these are an inspired gift for women. I like to give flowers to the women along with Christmas related items or gifts. In my opinion, along with flowers Christmas gift baskets and treats should be offered. Also flowers plus tree decorations are also appropriate.
Shopping for Christmas gifts can be frustrating sometimes. I remember a year when I wanted to offer a gift basket to my friends: my plan was simple I found the basket I liked and waited a few day before sending it (I wanted to arrive near Christmas). When I was ready to buy the basket it was out of stock. I move to the next model I liked, but this one was out of stock as well. After seeing hundreds of baskets I found one which I liked and was available. So plan your Christmas shopping earlier.  Gifts, including flowers sell well near Christmas and if you want to be sure you get one order in advance and  set the delivery date to be around Christmas.
To save money while shopping for flowers at Debenhams use XMASBLOG – £5 off all gifts.This coupon will expire at 21st Dec.