The gift baskets are very popular because they offer a lot of options. If you know what the receiver likes you can offer the perfect gift by choosing an appropriate hamper. These gifts are suited for any occasion from birthdays to Christmas because they contain special treats which everybody enjoys.
Today gift ideas are more expensive because these are Luxury gift baskets which should be offered on special occasions.
I have chosen 3 luxury hampers which I think that most of the people will love getting one:
#1. Wine & Cheese Feast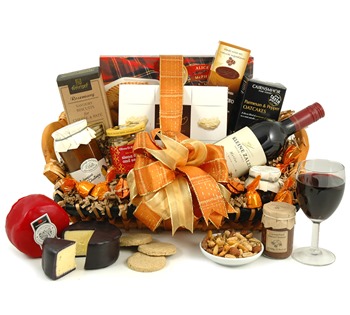 Images source hampergifts.co.uk
This luxury hamper is suited for any occasion and it is the perfect gift for a gourmand who loves wine and fine chesses. It contains award-winning cheeses, an outstanding South African Merlot and other delights like Spicy Mango & Ginger Chutney.
You can find more details about this gift basket Here.
#2. The Indulgence
The indulge hamper is full with tasty, award-winning treats which include:
elegant drinks: Champagne; a soft, juicy Spanish Red; and a double gold medal blended Scotch Whisky and
fine foods: wild boar pâté, gourmet nuts, Belgian chocolates, English chutney, fresh ground coffee, crackers, cookies and other delights.
You can find more details about this gift basket Here.
#3. Luxury Picnic Hamper for Four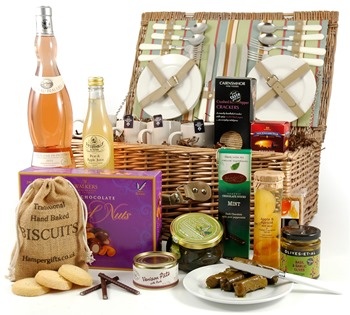 Picnic enthusiasts will absolutely love this gift.Inside a wicker picnic basket there are many delights.
Inside the hamper there are plates, cups and cutlery for four people and all the foods required for a special picnic: pâté, crackers, olives, fruits in syrup stuffed vine leaves, and cookies. The drinks weren't forgotten either. You can enjoy an English tea or an award-winning Rosé wine.
You can find more details about this gift basket Here.