I just found a cool site called GiftsnIdeas which has a lot of presents and it offers international delivery. I think it is a great option for sending gifts abroad or buying gifts in different countries.
Browsing their website for romantic gifts I have found a few which I think any women will adore.
After comparing several romantic gifts I decided to include these there in today's top.
# 1. Sweet and Savory Snack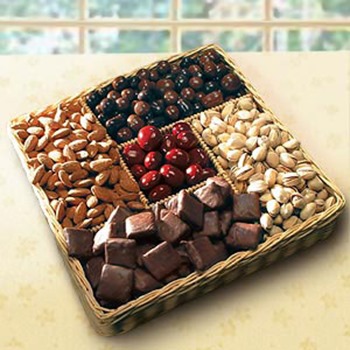 Images source giftsnideas.com
This is the perfect gift if she adores sweet and savory flavors. Most people love this combination because salt and sugar (sweet and savory) enhance each others flavor.
This gift includes: roasted salted almonds, English toffee, European chocolate bridge mix, colossal pistachios and chocolate covered cherries.
You can get more details regarding this gift idea from here.
# 2.Grand Godiva Basket
Women love chocolate and Godiva is one of the worlds finest chocolatiers in the world.
This gift includes traditional European biscuits covered with a square of milk chocolate, dark chocolate hot cocoa, eight mouth-watering truffles, an almond toffee caramel bar covered in milk chocolate, dried sweet strawberries covered in milk chocolate, a dark chocolate bar, dark chocolate-covered almonds, and an eight-piece gold ballotin filled with an assortment of fruit, nut, ganache and caramel filled chocolates.
Like you can see there are a lot of tasty treats for her included and you will also get a personalized message to impress her even more.
You can get more details regarding this gift idea from here.
#3. Elegant Spa Luxury Gift Set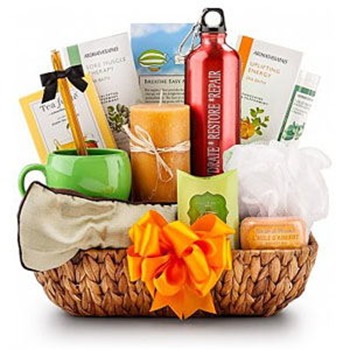 Everyone is under stress these days and most women will adore a spa gift because it really means spoiling herself and becoming relaxed.
This spa luxury set includes everything she needs: apricot oil soap, candle, bath salts, bath sponge, sinus soother mask. green mango peach tea, honey straws, ceramic tea mug, aluminum water bottle.
This gift is an easy way to make her experience a luxury life.
You can get more details regarding this gift idea from here.