If you are planning a trip with him I can suggest you 3 gift ideas which will fit perfectly for the summer.
It is hot and we all want some comfortable footwear so the idea is to get him some cool items:
#1. Vibram Five Fingers Classic Shoe
This is the gift he will appreciate if you are going in vacation somewhere where is water. I've wanted a pair in my vacation in Turkey because there were rocks on the beach.
The Vibram Five Fingers Classic Shoe uses Non-marking Vibram TC1 performance rubber soles protect your feet and provide a sure grip over a variety of terrain. A thin, abrasion-resistant stretch polyamide fabric fits low on the foot-for comfort and quick drying.
#2. Keen Kanyon Sandal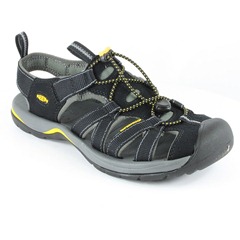 The Keen Kanyon offers laid back comfort and the ability to break the boundary between land and sea. Keen's patented toe protection helps avoiding injury when exploring the rugged coastline.
#3. Men Croc Shoes
Men Croc Shoes are extremity light and comfortable. The best thing about these shoes in the comfort they provide.
If you want to get him some special clothes also have a look at my previous post 2 Gift Ideas For Him.