Do you know someone who wants to lean how to play guitar? There is a new website which offers an innovative product  for guitar enthusiasts called Tempo Music Cards.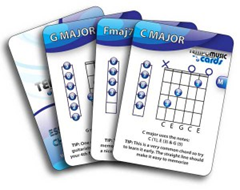 The Tempo Music Cards a simple yet effective tool  for learning to play guitar.
Who is it for
If you are just starting to learn guitar, this pack is a must because it will teach you simple chords you need to know.
Even if you have been playing guitar for a while, you are sure to learn chords you didn't even know existed from this pack.
Understanding how chords are put together will make you a better musician.