Buying a birthday gift for some friends can be more than a little challenging. Some people really seem to have everything. This year rather than try and find a gift they don't yet have, buy them an experience they will never forget. The following gift ideas are sure to help make it a really happy birthday.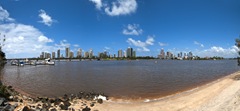 A Queensland vacation – Buy them a week long stay at one of a range of gorgeous serviced apartments in Brisbane or a luxurious stay at one of an array of Gold Coast apartments. From here they can fully relax and spend some time getting acquainted with the area, dining out, taking in the sights and then come home to a stylish, homey apartment. If this isn't enough, you could even throw in a few surfing lessons at one of the pristine local beaches to make it a truly unique birthday experience.
5 days on a Luxury Yacht in the Whitsundays – For those who haven't been already, the Whitsundays are one of Australia's most beautiful areas and what better way to enjoy it all then to cruise around on a private yacht.  They can cruise around the amazing Great Barrier Reef, spend a little time doing some snorkeling or just kicking back with a favourite book, soaking up the sun. What better way to mark their birthday than exploring one of the natural wonders of the world. It's a birthday gift they'll never forget. and  will allow your friend to enjoy this amazing part of the world without having to deal with drunk backpackers or thousands of tourists.
A 5 day horse riding adventure – For the horse lover, nothing beats getting out on the trail and what better place than the Blue Mountains. Give the gift of an amazing horse riding adventure which will take them along the trails and through the valleys of one of Australia's most unique natural areas. Meals and accommodation included, this gift will give the chance for them to get back on a horse and enjoy being back in the great outdoors, worry free.
A First Class Return trip on The Ghan – Nothing is quite as relaxing as a long train journey, especially in the luxury of The Ghan. Your friend will never forget the breathtaking and diverse scenery the unfolds as they travel across the country, and it wont be hard to unwind with the addition of first class food and wine along the way. If they haven't seen much of Australia, this gift is a must.
A scuba diving course – For those not yet with scuba accreditation, send them off to learn to scuba dive. Its amazing how many people have always wanted to learn how to dive but never have, so give your friend that friendly shove into the amazing world of the sea. It will open up a huge range of future adventure possibilities.
These gifts are top of the line, luxury experiences and will show how much you care for that special birthday boy or girl.