Aspiring actors are a sensitive lot and generally the ones who are filled with emotions. As such, it is wise to be very cautious while gifting them something. Also, it would be a right thing to gift them something memorable and unique which they can treasure throughout their lifetime. Contemporary "me-too" gifts are a strict no-no for aspiring actors. However, it is not easy to choose a gift for that special person in your life who inspires to be a professional in the arena of acting and theater. This article will lead you to certain options in gifting persons who either are or look forward to make a career in the field of acting, theatre and drama. For gifting this special lot, you could possibly rely on the internet to put up a smile on their face. In my opinion there are lots of options available on the webs which are optimal for gifting aspiring actors, thus not making it necessary for you to look beyond the boundaries of the World Wide Web. The following are certain easy and convenient web based options.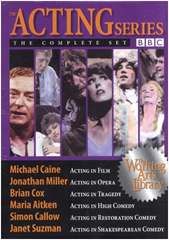 Gold ornaments and Musical Snow Globes from Broadway
This is definitely a very unique gifting idea which would be cherished by all the aspiring actors. Broadway themed snow globes are very special in appeal due to the special attributes they inherit. Moreover, placing them in your living area would exude a n unique appeal all over. This gift would surely put a smile on the face of any artistic person. Likewise, holiday ornaments from Broadway would also be more than ideal gifts suitable for all aspiring actors. However, gold ornaments from Broadway are more suitable for specific breed of aspiring actors than anyone else. As such, aspiring actors mainly from theatre background would love this idea of being gifted gold ornaments from Broadway. Broadway carries Dot Ornament which is completely different from all other ornaments which we see in our day to day lives. Probably, Broadway has specially wrapped up these gifting ideas especially for the breed of artists.
Vintage or Evergreen movie Posters
Aspiring actors generally grow up watching films and dramas from every generation. Most of the films they watch belong to a older generation, which is why they have some sweet memories of their growing up phase. Which is why gifting these special lot certain vintage or evergreen movie posters makes more sense than anything else. You could also gift them posters from Broadway especially if your special aspiring actor belongs to theater and drama. Vintage posters have an antique appeal which can be cherished by someone only from movie and theater background. For any aspiring actor, owning posters of classic films like "Casablanca" or "The Ten Commandments" would be preferred than owning a brand of perfume.
A Complete Set of the BBC Acting Series
The BBC Acting Series comes in a Complete 6 DVD Set, and which is referred to as the bible for learning acting techniques. With a nominal cost of $159, this acting DVD set ranges for around six hours of hardcore acting tutoring. What makes it more special is the authenticity brought to it from BBC. It surely is a classic option for all beginners as well as aspiring actors. These special acting sets teach exhaustively how to perform in diverse situations, be it acting for a comedy sequence or for a tragedy. As such, this DVD set could be a memorabilia for all aspiring actors due to the unique functionality annexed with it.
Books on Acting
Internet has wide array of "Do-it-yourself" and "Learn yourself" books on acting. If your aspiring actor is someone non dependant and the one who is willing to go through the chores of learning the technique himself with minimal effort, then books on acting would not only please him but also help him in a great way. Your gift could in fact pave his path more constructively towards his desired goal of getting his foot firmly placed in the arena of professional acting. As such, "Breaking into Acting for Dummies" by Larry Garrison and Wallace Wang is certainly a great gift for the aspiring actor. However, browsing through the web would enable you come across many more in the same category and who can practically help the aspiring actor master the great art of acting.
Magazine Subscriptions
Yearly magazine subscriptions also would make a lot of sense good enough to gift aspiring actors. However, your magazines should be based on the film and TV world. In other words, if your magazine subscription is purely media based focused on the glamour world, your aspiring actor would fondly accept it as one of the treasured gifts he would love to have. However, take caution and know if he actually loves to read magazines belonging to the film and TV fraternity. It would be rather surprising to know that certain segments of artists do not like to read film magazines as they like to refrain from all the gossips filled in them. This is why it would be better to personally get to know from the aspiring actor whether he loves reading magazines.
Author Bio:
Michael Clark has written this amazing article. He and his wife both pass out from acting school New York. Now they both work with a theatre group and Michael also work as a part time guest writer.