A twenty-first birthday is still a milestone birthday, even though an eighteenth birthday is now a special one too.  Often a twenty-first is celebrated with a big party, either at home or at a special venue, and many friends and family attend.  Usually gifts with a little more meaning and things that will end up as keepsakes are given as twenty-first birthday presents.  Gift baskets are popular, along with jewellery, engraved hip flasks or other expensive trinkets that the recipient will always put on display.  Friends might want to all put in and make up a fun gift hamper full of the birthday boy or girl's favourite treats, like wine or spirits, chocolates or coffee.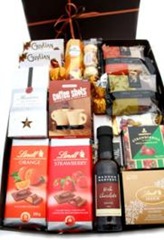 Gift Basket
A gift basket makes a great gift for a twenty-first because you can fill it with whatever you like and you can also buy them already made up online, which makes choosing a gift simple.  Gift baskets can include all sorts of lovely items like candles, aromatherapy products, wine, chocolates, skincare and beauty products, CDs and books and you can even include a special gift voucher for an experience that you know they will love as the main part of the present.
Jewellery
Jewellery is a popular twenty-first present for girls, with anything being appropriate, from rings, necklaces, pendants, bracelets, brooches, earrings or anklets.  Diamonds are popular, as well as: emeralds, rubies, sapphires or pearls.  Watches make a great twenty-first gift for boys.
Crystal Wine Glasses
Some good quality crystal wine glasses make a lovely gift for a twenty-first as they are something that they can keep forever and use for special occasions.
Leather Goods
Good quality leather goods make lovely twenty-first birthday gifts that the recipient can treasure for many years to come.  For a girl you could give her a purse, a new handbag, make up case or overnight bag.  There are plenty of great leather items to choose for a boy including wallets, belts and bags.
Entertainment System
Having several people going in for a gift gives you more buying power and a good idea for a twenty-first gift is an up to date entertainment system.  Buy them the latest in stereo appliances complete with surround sound speakers and throw in some great new CDs as well.
Camera
Help them capture all the fun and excitement of the evening by giving them a brand new camera.  There are some fantastic digital cameras available that take professional quality photos by simply pointing and shooting.  For someone who may take their photography more seriously you can get them a SLR camera with a variety of different lenses, which would make a great gift for several people to pool in for.
Adventure
For a bit of fun why not book them in for an adventure or thrill seeking experience, like white water rafting, bungee jumping, sky diving, hot air ballooning or give them a gift voucher for a high speed lap in a race car.
Cash
A birthday card with some cash in it may not seem like an exciting present but twenty-one is that time of life where everyone is just starting out and needs cash to get their dreams started.  Cash will really be appreciated.