Have you noticed just how many different gift ideas for kids this Christmas that have a cuddly animal theme? These gifts can be equally appealing for boys and for girls alike so let's just see what available.
Firstly, a most sought after gift for kids this Christmas is the Pillow Pet. They arrived in the UK in spring 2012 and for those of you not in the know, a Pillow Pet is just what the name suggests: a pillow on the underside with a pet on the top. They have a Velcro strap that allows the animal to sit up when not in use. In the last month we have seen a fabulous, limited edition fantasy range of 18 inch Pillow Pets arrive in the UK. But be careful, there are a number of fake Pillow Pets around so we would urge you to make sure by double checking that you are buying the genuine pillow pet product from an official stockist.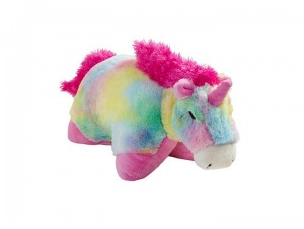 If you are thinking about buying Pillow Pets for your kids this Christmas, our advice is to buy early. Pillow Pets are extremely popular already and we wouldn't want your children disappointed when they wake up on Christmas morning.
Another animal gift that will help to keep your kids feet warm this winter are the novelty animal slippers. We know how hard it can sometime be for children to keep slippers on their feet however, we are confident that they will just love to always wear their animal slippers.
Kids love soft cuddly and especially animal toys that will keep them warm and cosy at bedtime. One such gift for kids is the fully microwave teddies and Cozy Plush microwave animals – where you put the whole toy into the microwave or ones that have a removable tummy wheat bag. Both types have a soothing lavender aroma to aid a restful night's sleep. Cozy Plush microwave animals are extremely popular gift ideas for kids.
You can even buy an Adopt an Animal Gift Set. These are novelty gifts for both boys and girls and can make great ideas for Christmas presents. You can choose from adopt an endangered animal such as a Panda or choose an animal closer to home such as a Horse or Pony.
Another animal gift is the Animal Mobile Phone Holders – these are gorgeous fun for the older child. You'll be spoilt for choice on the range of available animals that are available this Christmas.
We really like the fun range of animal pillows for kids. These are soft and cuddly, and your child will love taking these on their next holiday. Perfect travel companions for kids. Fun but also very useful gifts for kids.
Animal Screen Cleaners – these are useful cute computer gadgets for really great stocking fillers for kids. There are lots of fun animal designs to choose from.
Does anyone know of other really cute animal gifts for children?