You've just convinced your friend to finally take the leap and travel for the first time ever. As a frequent traveler, you know just what that pal is missing by not embarking on adventures. So now he or she is taking baby steps by going on an initial journey, only to be assaulted by a case of doubts and cold feet. Aside from sharing your stories of your thrilling trips, I think that your friend could be given a nudge in the right direction when you give something that will compel him or her to travel. Here are some awesome gift ideas–which can pass as advanced birthday or christmas gifts–which just might give your friend the incentive to throw caution to the wind and embark on the adventure of a lifetime.
Luggage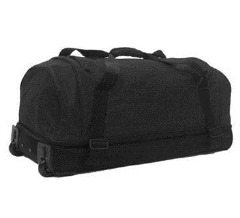 Images sent by author
Most travelers prefer to pack light and carry backpacks when traveling. If your friend is the no-fuss type, then a backpack is perfect for him. If you plan to get this type of bag, make sure it is durable with padded back straps. Another great option is to get a "travel duffel" which can come with wheels as well as a retractable handle. This kind is great for extensive travel when you have to walk long distances. The wheels will help keep you from straining your back especially if your backpack is a little on the heavy side. Don't forget to include a quirky bag tag along with your luggage. The quirkier, the better, so that it will stand out especially since there is a chance that another traveler could be carrying the same exact luggage.
Passport Holder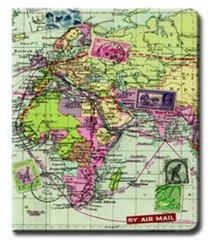 Before I started traveling, I was never able to appreciate how nifty some things are for traveling like a passport holder. The first time I traveled to another country, I found out how challenging it was to keep track of all travel documents. It became easier when I was able to purchase a passport holder, which also allows you to store other important documents that may be needed when you're out and about exploring. To add a fun twist to this gift idea, choose a funky design like the Wild and Wolf Map Passport Holder. This travel wallet's design perfectly symbolizes travel and adventure. It is ideal for keeping all your travel documents in one place and even has a zipper for safe-keeping.
Travel Toiletry Kit
A traveling toiletry kit is another useful item to have when you're on a trip. No doubt this will help your friend organize his grooming essentials and keep them in plain sight through its clear plastic compartments. From tweezers to toothpaste to shampoo, this kit will help you find what you need without the hassle of digging through the many pockets of your huge luggage. This organizer comes with a hook that will allow you to hang it on the bathroom door or even a closet hook for easy accessibility.
There are just some of the great gift ideas that will help your friend ease into traveling and make it a little simpler for him or her. Another thing that's important in every journey is travel insurance. Don't forget to remind your friend about the importance of having backup during travel just in case there are medical emergencies that may arise.
Based in San Diego California, Tiffany Matthews is a professional writer with over 5 years of writing experience. She also blogs about travel, fashion, and anything under the sun at wordbaristas.com, a group blog that she shares with her good friends. In her free time, she likes to travel, read books, and watch movies. You can find her on Twitter as @TiffyCat87.