Christmas is coming fast and if you need a last minute idea are reading the right blog. For this Classic last-minute online Christmas Gift you won't need to wait for the delivery because it is instant.
This beautiful gift is the latest book by award-winning illustrator Gerald (Storm) Talifero called The Problem With Unicorns – A New Classic Children's Book.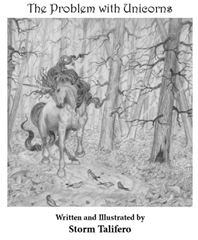 "The Problem with Unicorns" inspires fantasy play and creative right-brain thinking. Children of any age will listen to the audio book again and again, watch the flash file like a movie, and enjoy turning the pages of the eBook on their iPads, Nooks and computers. They can also listen to the song version on their mp3 players or burn it to a CD.
The best past is that the The Problem With Unicorns is an ebook so you will have instant delivery and it works on all computers and new tech gadgets.
This Christmas book comes in the following formats:
PDF picture eBook for your computer
PDF picture eBook for the Nook
PDF picture eBook for the iPad
mp3 Audio Book for the iPod and MP3 Players
mp3 Audio Book over music
mp3 song, vocals by Jinjee
Flash (swf) file picture book set to song with pages that turn themselves