I am very excited to write this post because I have found some great Christmas gift ideas.
This gifts are very good to be offered to someone how spends time in the kitchen and has the sense of humor. You will see they are very cool. In fact I think I will buy some of these for myself.
#1. Chain Wine Bottle Holder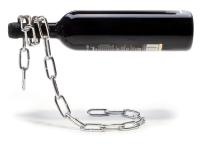 This will definitely attract attention! Your wine bottle will appear to sit in the air.
The Wine Bottle Holder uses the principle of balance to create a magical optical illusion. Suitable for most wine, oil, vinegar, spirit bottles.
Magic. Isn't it?
#2. FRED M-Cups Russian Doll Measuring Cup Set – Matroyshka
How said that cooking shouldn't be fun? It will be fun for sure to measure thing with these Matroyshka.
This set of 6 dry-measure cups nests neatly just like traditional Russian matryoshkas. They accurately measure 1/4, 1/3, 1/2, 2/3, 3/4 and 1 full cup and they're built from heavy-duty, food-safe, long-life engineering plastics.
#3. Joseph Index Chopping Board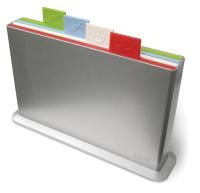 Index colour coded chopping/cutting board categorization system.
In a neat ABS storage case that has a non-slip base, the four colour coded chopping/cutting boards have illustrated tabs labeling which board should be used for which food type
(vegetables, fish, raw meat and cooked food).
#4. Joseph Joseph Elevate Utensil Set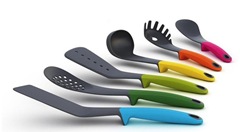 This set will bring colors to your kitchen. Cooking is fun when you are surrounded by happy colors.
The Elevate range comprises of 6 essential tools as a boxed gift set:
Solid Spoon
Slotted Spoon
Flexible Turner
Slotted Turner
Ladle
Spaghetti Server
#5. Joseph Joseph Compact Herb Chopper
This is what I want for Christmas. I enjoy cooking but chopping things drive me crazy. It takes to long for my to chop with a knife so this chopper will be amazing.
This stylish design comprises of a non-slip chopping unit and a double hachoir in one.Suitable for chopping all kinds of herbs, garlic, ginger, nuts and chocolate.
All the products form this post can be bought from WowGiftWare.com.au.