Digital frames make great gifts as more people turn exclusively to digital photography. And as digital photos become more popular, digital photo frames become more advanced, offering countless opportunities and options in customizing your digital experience
Here are some suggestions about how to use digital photo frames as gifts.
* You can add pictures from your precious moments and offer the frame to your life partner
* Digital photo frames are great gifts for Mother's Day, Father's Day, Valentine's Day and Christmas
* They can be offered to say I love you or I'm sorry
* It can be offered to couples on their anniversary
* It can be offered as good bye gift. One of my friends gave a digital photo frame to his boss when he left the company.
Digital photo frames top recommended models
D-Link DSM-210 10-inch Wireless Internet Photo Frame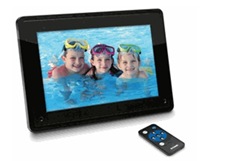 Digital Spectrum AL7-BK 7-inch Portable Digital Photo Album
Sony DPF-D80 8-inch Digital Photo Frame