There are a lot of romantic gifts out there, Flowers seem like the best option and I do like to accompany the gifts for her with a  beautiful bouquet. However today I am going to show you another romantic gift idea: name a star.
This gift is suited on multiple occasions like Mother day, Father day, Valentine's day, Christmas, birthday or just to say "I love you".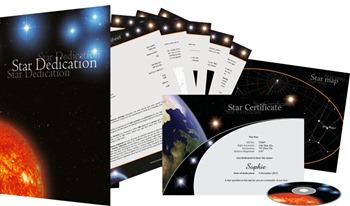 Image source buyastar.ie
To offer such a present you will need a reliable Name a star gift package provider. For example http://www.buyastar.ie offers a complete gift pack where you will name a star after a loved one and he/she will receive a beautiful gift pack containing the star info presented in an attractive manner.
This is a personalized gift so each packet is unique.
All the documents will come in an attractive gif folder which will contain the background information about the selected star. Inside the folder there will be files with information about: the star, constellation, how to find the star on the sky and the star certificate which will show the name of the star and the date when it was named plus a personal message.
The pack also includes a software that allows sky exploration and makes finding the named star an easy job.
So a name a star personalized gift may be an appreciated present is the receiver likes to watch the sky at night.