There is so much more to Valentine's Day than flowers, chocolates and stuffed bears. Check out this selection of whimsical, practical and even naughty gift items made in China that will surely melt the heart of that special someone.
Butterfly in a jar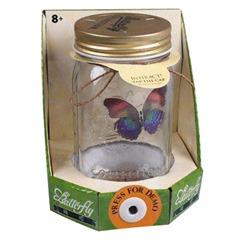 Image sent by author
Set hearts aflutter with the model SR-6063 butterfly in a jar from Fujian Hua Min. The product consists of a glass jar with an electronic butterfly that responds to sound and taps on the jar by fluttering its wings for about 90 seconds.
Ten butterfly species are available, namely Blue and Pink Morpho, Yellow Swallowtail, Monarch, Rainbow, Peacock, Purple, and Purple, Pink and Green Fairy.
Key to my heart
Lodestar's model LS6155-2 bangle features a heart-shaped lock. The key to the lock is attached to a pendant, which is bundled with the bangle.
Made of 316 stainless steel, the product comes in steel, gold and rose-gold colors. It is nickel- and lead-free, and measures 62x52mm. The thickness is 2mm.
Share a drink with me?
Zhejiang Hawks' CL1C-GW94 model is a plastic water bottle with two separate sections, each with a drinking spout. The sections are secured together by a band at the neck and base.
The water bottle is made of BPA-free PE. Capacity is 770mL.
iPhone love
Fanboys and girls can declare their love for Apple and one another with this couple's iPhone 4S case. Each product is 117x61x9mm.
Made of plastic, one case is in black while the other is white. They have a red section on the back that forms a heart when the cases are put together side by side. Leather and metal versions are also available.
Long walks in the rain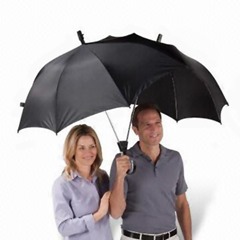 Walking in the rain will be even more romantic with this auto-open lover's umbrella from Iger.
The IG13FU57-1 model is 23/28in x 8K. The umbrella has a metal frame, plastic handle and 170T polyester canopy. Open, it is 120cm in diameter.
Heart stores memories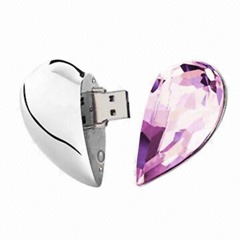 The heart-shaped USB 2.0 flash drive from Shenzhen Kersen can store 8GB worth of files.
The KGD-4022-1 model has a transfer speed of 10 to 24Mbps. Versions 2, 4, 8, 16 and 32GB are also available.
Float, not sweep, her off her feet
Create magic with this heart-shaped USB photo frame from GreatyYatay.
Magnets allow the picture holder of the EB-U05-1-1-1-1 to levitate and support. The unit is fitted with four LEDs. It is 18x17x5cm and has a silver or black plastic base.
Musical heart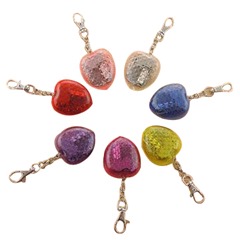 This acrylic keychain from Xiamen Chongjin plays Canon in D or Kimi Wo Nosete.
The model CJKC001 music box keychain comes in red, rose, purple, pink, blue, white or yellow.
Cute kissing pens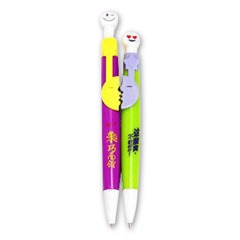 Nanchang Valin's Val-023-1 model is a pair of ballpoint pens featuring clips shaped like the profile of a face. The clips "kiss" when the pens are side by side.
Each pen is 13.5×1.5cm and 40g. The barrel is made of ABS. Custom logos, and OEM and ODM orders are accepted.
By Helen