Christmas is coming, and you will soon find yourself in a rush to purchase the most beautiful gifts for your loved ones. Most people tend to postpone this moment until the last day, when everybody's crowding gift shops in an attempt to figure out what their family and friends would like to receive as a gift. There are plenty of items that you can offer as a gift, most of them consisting of jewels, books, and clothing items. However, masquerade masks can also be very appreciated as Christmas gifts, especially by women. They're elegant, mysterious, and they represent the person who wears it, so there's no reason why they shouldn't be in the center of attention.
Image sent by author
Purchasing a masquerade mask is not very difficult. The difficulty arises when you need to decide which of them will match with your outfit. The whole idea behind this gift is to make people smile and imagine how they would look at a masquerade ball. If you offer masquerade masks to all the people you know, you can also come up with the idea of organizing a Masquerade Ball on Christmas. Nothing should stop you from having fun with your loved ones.
Take a look at the following masquerade masks gift ideas and try to decide whether they would look good on your loved ones. As soon as you're sure about your choice, go to the nearest shop and have fun imagining the people your care for wearing them.
Venetian Mask as a gift for Christmas
Venetian masks are great gifts for women, as they're elegant and they can be worn with all types of fancy dresses. Since it's Christmas, the favorite colors are red and white, so try to choose a mask that contains a combination of these two colors. Venetian masks can feature lovely feathers of all colors, and can be entirely covered in glitter. Women will love receiving these types of masks, regardless of whether they attend masquerade balls or not. Get ready to surprise your soul mate with a beautiful Venetian Mask offered as a present, along with an elegant dress that perfectly matches it.
Just-the-eyes Masks as Christmas gifts
This type of mask can be worn at a wide range of events, its main advantage being that they come in various colors and designs. You can opt for plain color masks, or for the ones that are extremely ornate, featuring several adornments and gold trims. Some types of masquerade masks contain straps that can be placed around the head, and others come with small sticks that can be used to hold them in front of the eyes. If the person you are going to offer this type of mask to loves feathers, you are advised to opt for a feather-inspired model and make sure not to choose a type that's too exaggerated.
Half -faced masks as Christmas gifts
Half-faced masks are the ones that cover your eyes, forehead, nose, cheeks, and part of your mouth. This is why they're usually considered to be suitable for men. Masquerade balls are crowded with men who wear this type of masks, so you shouldn't think twice before purchasing a half-faced mask as a Christmas gift for one of your friends. Even though they're available under many colors and designs, you should try to opt for a red and white combination. If your friend is severe and loves influencing the others, a scary mask could also be a great gift for him. However, regardless of what model you choose, should make sure that the spirit of Christmas is not forgotten.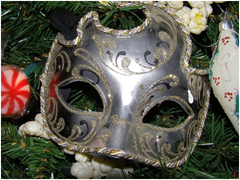 Impress your loved ones by offering them your own creations
Nobody knows your friends and family better than you do, so there's no reason why you shouldn't try to design and create the perfect masquerade masks for them. You don't need to be a true artist in order to do that, since there are plenty of online tutorials that can teach you all the steps. Nothing compares to a hand-made gift, especially if it's designed by the person who offers it. Therefore, let your imagination run wild and impress the people your care for by offering them a unique masquerade mask as a Christmas gift.
By Jason Phillips